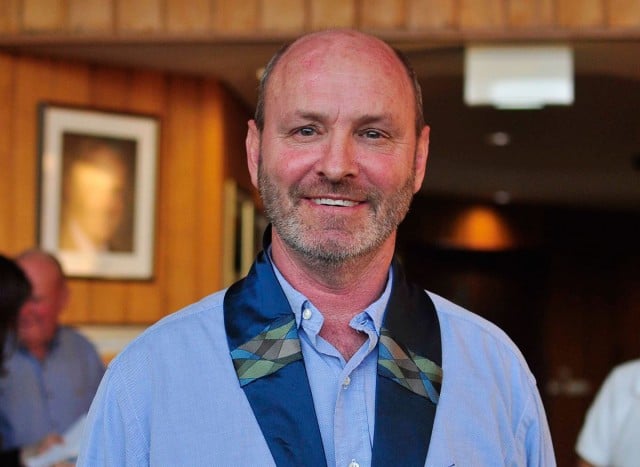 Luis Feliu
Tweed mayor Gary Bagnall, who faces an uphill battle next week to retain his role in the top job, says he fears for the future of local government in the shire if his pro-development opponents take the reins of power.
Cr Bagnall, who has served as mayor for the past year as part of the progressive faction on council, which is now in a minority, said he will stand again for the role when councillors take a vote at an extraordinary meeting next Thursday (September 17).
Tweed shire councillors vote for a mayor each year in the four-year term, unlike some neighbouring councils such as Byron where the mayor is elected by popular vote for the full four-year term.
Cr Bagnall, a Murwillumbah cafe owner backed into council on a progressive independent ticket three years ago, teams up with Greens Cr Katie Milne on most issues.
But the two have been left in the minority on the seven-seat council since Labor's Michael Armstrong suddenly quit a few months ago to focus on caring for his ailing father.
The pro-development National-aligned faction of veteran Cr Warren Polglase, with Crs Phil Youngblutt and Carolyn Byrne, now dominates as a majority, and they have been backed on several controversial development issues by Cr Barry Longland since Cr Longland lost the mayoralty last year to Cr Bagnall.
The faction's support for the contentious Mooball mega-expansion plan, which upset locals who say their concerns over issues such as flooding impacts, lot sizes and the process followed in its approval were ignored, was often passionately criticised by Cr Bagnall.
Yesterday the outspoken Cr Bagnall told media he was ready to 'defend local government' because his opponents on council would not do so and they would back the state government instead.
'The state government is ripping up the story book of over 100 years of local government in NSW,' he said.
'My question is, who is going to defend local government in the shire?
'Warren Polglase will not defend this area or the local government. He will back the state government.
'I have a record of standing up to the state. I am no yes man. I am no bureaucrat.
'As the state government attempts to change the face of local government we need a tough mayor, as it is an enormous challenge,' he said, in answer to questions from local media.
Cr Bagnall, who receives popular support for championing community and environmental causes, said he was 'standing on my achievements over the last three years'.
Shire booming
'The general manager recently wrote to me and stated that this last year has been the biggest year ever in development activity around the shire,' he said.
'I have fought for sustainable development, for the environment, for better services and for individuals throughout the shire.
'One year is not long enough for any person to be mayor. I have achieved a lot, but in this job you can never rest.'
The mayor pulled no punches in backing his stand, saying he had been bullied after 'standing up' to the deputy premier and local National Party MPs Thomas George and Geoff Provest against the coal-seam gas industry (CSG).
'But Cr Longland sided with the pro-development faction to try to force me to write a letter of apology to them,' he told Echonetdaily.
(See our previous story 'Tweed mayor vows not to be bullied' at https://www.echo.net.au/2014/11/tweed-mayor-vows-bullied/)
He continued with more fighting words, asking 'who will the people trust?'
'I offer purpose, direction, and have a mission. I have a clear idea of where local government needs to be going and I am fed up with all the bull,' he said.
'This shire needs to move forward. Warren Polglase is yesterday's man. He represents the old style National Party.
'Our council  has grown up and matured. We don't want to operate like they did in the past where everything was done with a wink and a nod.
'I have been around the shire for as long as Warren Polglase has been in council.
'I know he is desperate to get in. I remember when he was mayor and the council was sacked, and so do a lot of other people in this shire.
'We don't want to go back to that. I am the mayor for the people, you can talk to me and I will take this shire forward into a sustainable future,' Cr Bagnall concluded.
(Comment has been sought from Crs Polglase and Longland.)