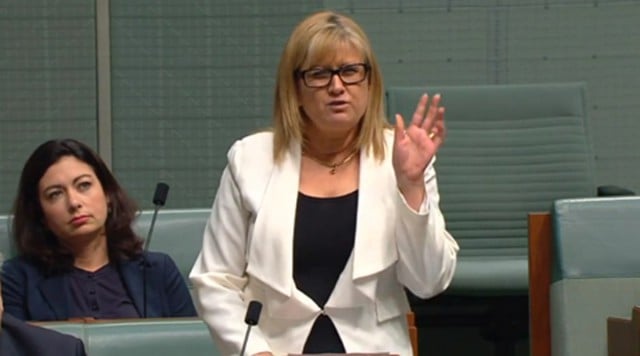 New prime minister Malcolm Turmbull has come under attack in parliament for his role in pushing for a controversial dam at Tyalgum eight years ago.
But the election of a labor government in 2007 stopped the dam plans, according to Richmond MP Justine Elliott, who yesterday accused Mr Turnbull of 'selling out' over the issues of climate change, renewable energy and marriage equality.
Mrs Elliot claimed that Mr Turnbull had 'done dirty deals' in agreeing not to change party policy 'in return for support to become prime minister'.
'But it is the same old Liberal-National Party, the same old policies, the same environmental vandals. What we have now is a new prime minister who has sold out: the fact is he cannot be trusted, and Australians know that,' she told MPs.
Mrs Elliot said Mr Turnbull in 2007 as environment minister wanted to build a dam at Tyalgum, with the Nationals also backing the plan.
'They ignored and betrayed our community who were strongly opposed to the dam. It was only the election of a federal Labor government that stopped these plans for a large dam at Tyalgum,' she said.
'As I have mentioned many times before in this House, we have Liberal and National parties who, at every level, whether it is federal or state, are absolute and complete environmental vandals.
'Nothing has changed about that. I would like to remind the House that, when the now Prime Minster was the Minister for the Environment and Water Resources in 2007, he had a plan to build a massive dam at Tyalgum, a lovely small village in my electorate of Richmond, on the NSW North Coast. This would have destroyed the village and surrounds, and it would have been an environmental disaster.
'I remind the House that in 2007 I put questions to the minister calling on him to rule out the proposal for this huge dam and he responded by saying, 'All options should be on the table in order to find the most cost-effective means to supply this water.'
'He ignored the concerns of our community, and the community were outraged at the environment minister and they have never forgotten this betrayal.
'It was only the election of a Labor government that stopped these cruel, harsh plans, but locals remember what happened, they blame the now Prime Minister for that and they also blame the National Party for wanting to build that huge dam.
'If our new Prime Minister is willing to sacrifice on climate policy, what else has he sacrificed; what other price has he paid; who else has he sold out?
'Clearly he has also sold out on marriage equality. He has refused to have a free vote in this House. That is another disgraceful act by this Prime Minister, a disgraceful act of betrayal by not allowing a free vote in this House on marriage equality.'
Link to Mrs Elliot' Speech:
http://parlinfo.aph.gov.au/parlInfo/search/display/display.w3p;query=Id%3A%22chamber%2Fhansardr%2F842ee7d9-89d4-4e4f-bc93-045b018bbeb2%2F0157%22
Video Link to Justine's Speech:
https://www.facebook.com/JustineElliotMP/videos/vb.397307097023253/878401128913845/?type=2&theater