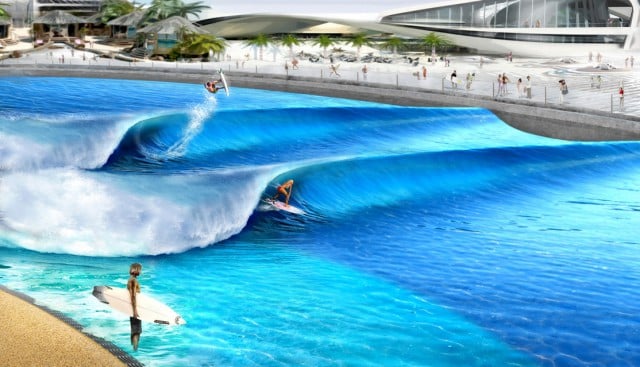 A Ballina shire councillor wants state government help to build a surfable ocean pool in Ballina 'as a matter of urgency'.
Cr Keith Williams has lodged a notice of motion for the next council meeting in an effort to combat 'negative stories 'about shark attacks along the Ballina coastline.
'Anecdotally I'm hearing that this is now having a significant impact on tourism and will potentially have dire economic consequences for the town in the long term,' Cr Williams said.
He said that Ballina Council had done everything it could within its limited legal powers to ensure the safety of beach goers, but delays in state government action had failed to reassure the wider community.
'It took months for the State Government to take this situation seriously. As a consequence, local surfers have been left feeling vulnerable and potential tourists are having second thoughts,' he said.
'Whatever the State Government finally decides to do for shark management, it is unlikely to undo the impact of months of negative publicity."
Cr Williams said, the council needed a solution that directly addressed the perception that Ballina was no longer a safe destination.
'A wave pool that provides a safe, year round surfing venue, would completely turn the current situation on its head,' he said.
'We would become the safest destination to surf in Australia.'
Cr Williams said the council had recently increased rates to fund upgrades of the Alstonville and Ballina pools.
Cr Williams said this provides the ideal opportunity to reconsider what facilities were needed.
'One of the advantages of a wave pool is its capacity to fund itself in the long-term. A wave pool could be a good financial investment as well as a significant community asset,' he said.
However, Cr Williams said the project was unlikely to be viable without some state government support.
'We need suitable land and an upfront contribution to capital costs. The state government should consider this project as part of its current response to shark management."
'Ballina has born the brunt of the media feeding frenzy and we now need help from the state to defend the biggest employer in our region.'
Cr Williams motion comes as the state government has launched an inquiry into the impacts of shark attacks on tourist destinations such as Ballina.
The Legislative Assembly Committee on Investment, Industry and Regional Development is now calling for submissions to its inquiry into the management of sharks in NSW waters.
Committee chair Kevin Anderson said the inquiry would investigate how the NSW Government could support communities impacted by shark attacks.
The closing date for submissions to the inquiry is Friday, 23 October 2015.
Further information about the inquiry can be obtained by visiting http://www.parliament.nsw.gov.au/investmentindustryandregionaldev.