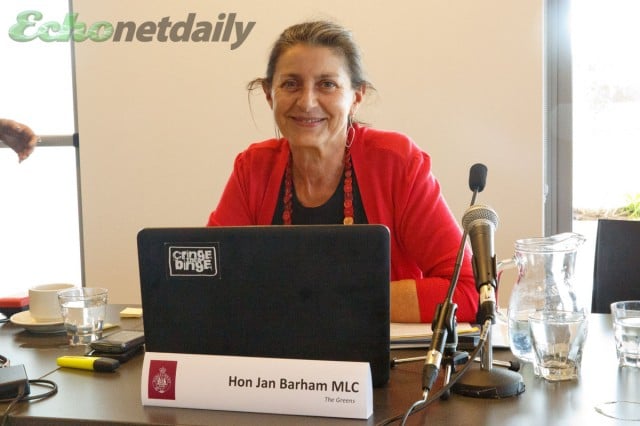 North coast Greens MP and former Byron Shire mayor Jan Barham has welcomed a NSW parliamentary inquiry into holiday letting
As the party's tourism and north coast spokesperson, the longtime opponent of the unregulated industry is encouraging local residents to make submissions.
Ms Barham said that, 'the contentious issue of holiday letting has had many impacts on north coast communities, and despite the lack of planning approval it has continued to flourish.'
Ms Barham said the unapproved nature of the industry means it fails to pay its way and places an unfair impost on traditional tourism businesses as well as local residents who suffer loss of amenity.
'Without approval and regulation, the short-term holiday letting of residential premises doesn't pay its way but adds to the impacts and costs to council, as well as depriving approved tourism accommodation providers of business.
'Other issues that may come to light through this inquiry into holiday letting are the possibilities for tax evasion, and that property owners may be claiming negative gearing and a capital gains tax discount while effectively running commercial businesses,' said Ms Barham.
Airbnb
She added that the rise of online accommodation platforms such as Airbnb has changed the marketplace and this also needs to be examined.
'The inquiry will also examine… regulatory issues around the "sharing economy" model of accommodation for travellers,' she said.
'While these platforms offer some great benefits for home-owners to be able to earn income when their property is under-occupied and for travellers to experience a local connection to the community they're visiting, it has become clear that the use has extended to the permanent rental of whole premises for tourism in some areas.
'This aspect of online accommodation services may lead to impacts for neighbours as well as the regulated tourism industry providers. The lack of approval creates an uneven playing field within the industry and also a lack of compliance with industry standards relating to safety, insurance and other regulatory issues.'
Byron, Tweed residents impacted
Ms Barham said that in Byron and Tweed Shires it is estimated that there are nearly 2,000 residential properties being used for short-term tourism, depriving up to 5,000 residents from housing in the local area.
'For more than a decade the unregulated use of residential properties has caused negative impacts in Byron Shire for residents, including noise and antisocial behavior,' she said.
'It has also had a major effect on the availability and affordability of housing. It makes a mockery of strategic planning that defines residential and commercial zones and the impacts on infrastructure.
'The use of holiday let brings additional visitors to the shire, and particularly in Byron Bay it adds to the traffic issues. Residents have suffered for too long, missing out on neighbours and a sense of community.
'For those seeking rental properties in the area, it has reduced the available stock, contributing to this being one of the most unavailable and unaffordable regional areas in NSW. Importantly for those who stay in these properties, there could also be serious issues if there was an accident or injury as insurance doesn't cover unapproved uses,' Ms Barham said.
A Tweed Shire Council report identified that the use of 900 homes being used for holiday lets in that shire.
Ms Barham said that despite it being a prohibited use in residential zones, the council had resolved to allow the use.
Byron Shire Council backed away from creating holiday-let zones last year and is now putting the finishing touches to a plan that would see holiday-letting allowed across the shire under a range of circumstances.
The Legislative Assembly inquiry into the adequacy of the regulation of short-term holiday letting in NSW will receive submissions until the November 9.
Terms of reference
That the Committee inquire into and report on the adequacy of the regulation of short-term holiday letting in NSW, with particular reference to:
The current situation in NSW and comparison with other jurisdictions
The differences between traditional accommodation providers and online platforms
The growth of short-term and online letting, and the changing character of the market
The economic impacts of short-term letting on local and the state economies
Regulatory issues posed by short-term letting including customer safety, land use
Planning and neighbourhood amenity, and licensing and taxation
Any other related matters.