Harking back to Frocks on the Frontline from the Doubtful Creek and Bentley blockades, the Knitting Nannas Against Gas hosted Frocks Back on the Frontline yesterday at the Eltham hall, an event to raise funds for the Environmental Defenders Office (EDO), the community legal centre specialising in public interest environmental law.
The EDO's aim is to help people who want to protect the environment through law. Each year it provides free legal advice to more than 1,000 individuals and community groups across the state. They also run free legal workshops for local communities.
Shocking funding cuts of $10 million over four years (for nine states and territories EDOs), have for a few years threatened to shut down EDO legal services, so it was Knitting Nannas and frocks to the rescue!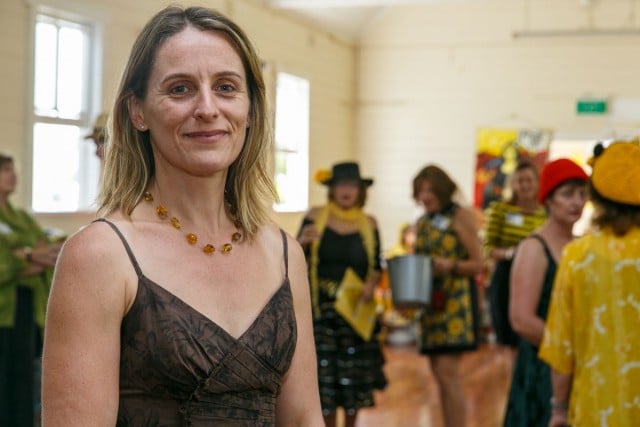 Guest speaker for the event was Principal Solicitor of EDO NSW Sue Higginson.
'I have the great privilege and honour of heading up a pretty terrific organisation, EDO New South Wales', said Sue. 'We've been around for 30 years.
'About five years ago, a couple of people came and knocked on the door of our office and said, "What do you think about coal seam gas?" My colleague and I at EDO had been sitting there thinking "What is this thing?" We'd been reading lots of industry material and we were being told that this was a fantastic transitional source of energy because the big dirty coal mines were making a catastrophic contribution to climate change and we needed to be looking for alternative sources of energy.
'We sat there and we thought logically, alternative sources of energy are those that aren't fossil fuelled and that they are real alternative sources of energy, but we also realised it was quite difficult to cut through a lot of the industry "spin" about exactly what coal seam gas's role was.'
Sue said they started to look at what was happening to our northern neighbours.
'For our poor colleagues in Queensland, the industry had really gotten a foothold through the landscape and what became really obvious to us was what that if something wasn't done pretty soon, we'd lose New South Wales as well.'
Sue says that what was really remarkable was what communities were doing.'They were becoming switched on to the threat and they cut through the spin.'
Sue said that a few years ago, after the funding cuts, she felt that the EDO was doomed but that it was the support of community groups that had helped keep the service afloat.
'At the time I thought who in their right mind is going to want to support a bunch of lawyers of all things. I underestimated just how much the community can hear exactly what it is we are trying to do. People are supporting us.'
After the official speeches were over, too much fun was had by all with a gorgeous afternoon tea, raffles and auctions, and great music from artivists Davey Bob Ramsey and Luke Vassella, then the event got down to serious business and the focus turned to frocks and the fashion parade.
Categories for judging at the event were best Male dressed as Female; Activist; Frocks on the Field; Junior Activist and a People's Choice, there was plenty to feel joyful about, and Nanna judges Anne Thompson and Erica Bates were spoiled for choice.
Photos Tree Faerie – Cloudcatcher Media