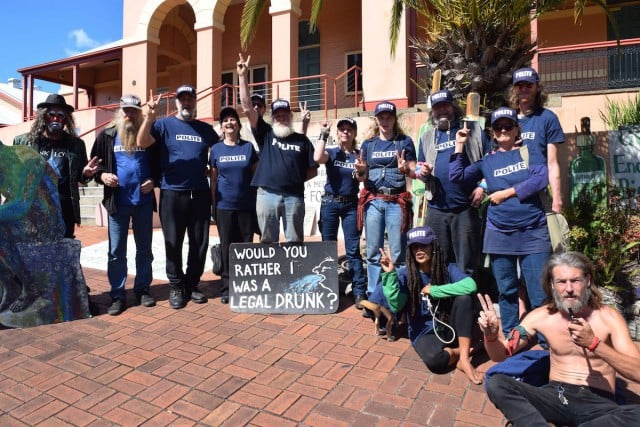 By Darren Coyne
The Victorian Government is set to be the first state to approve medical cannabis as the New South Wales Government ramps up its attack on cannabis users with a tripling in roadside drug tests.
The Victorians are expected to announce today what law changes are necessary to legalise medicinal cannabis for use in exceptional circumstances.
Premier Daniel Andrews made a pre-election promise to bring about the changes, and asked the Victorian Law Reform Commission to advise on how to amend laws so people could safely access quality medicinal cannabis.
Meanwhile in NSW, cannabis users can expect further harassment with NSW Police announcing they will be tripling the number of roadside drug tests to 97,000 tests annually, and rolling out dedicated drug-testing vehicles to every NSW region.
Hemp Embassy president Michael Balderstone said the roadside drug testing regime was already having a massive impact on people who used cannabis as a medicine.
He's not alone.
Steve Bolt, from Lismore law firm Bolt Findlay Lawyers, has told Echonetdaily that the local court system was becoming clogged with drivers picked up by the tests.
Mr Bolt said a recurring theme in court was drivers admitting to having smoked cannabis, but not for days.
Even local magistrates have questioned the effectiveness of the regime, pointing out that THC, the active ingredient in cannabis, stays in the system for days, if not weeks, with no evidence of impairment.
And while those convicted might be let off lightly with no conviction recorded if they have a good driving record, or with a short suspension, Mr Bolt said the worrying thing for many people was that a second detection could lead to a lengthy disqualification.
'There is almost zero public transport in our area, and many of them live a distance from the main area where they work and take their kids to school,' Mr Bolt told Fairfax media.
'I think this testing is completely misguided and a waste of resources.'
Echonetdaily has previously reported that up to a third of 'positive' roadside tests conducted by police in recent operations had resulted in negative results once the driver was re-tested at the drug bus.
But more worrying for many drivers is the fact that police are tagging vehicles whose drivers have returned a positive result in the past.
Mr Balderstone said he had spoken to a number of people who had been pulled over numerous times since an initial test.
'Once you've been busted once then you're tagged and the next time you will lose your licence,' he said.
'The result of this is that otherwise law-abiding citizens are either turning to different drugs which cannot be detected, increasing their use of prescription drugs like codeine, or simply staying at home.'
He said the roadside test was for 10ng/ml THC whereas workplace testing, like a crane driver, was for 50ng/ml.
'It's like .05 becomes .01.
'The police say because its illegal any amount is a bust and the charge is not about impaired driving at all, the court charge is THC in your system while driving.
He pointed out that Colorado and other American states with legal medical cannabis had seen a drop in car accidents, alcohol use, opiate overdoses and suicides.
'They test for impairment by walking in line or whatever, easy to see if someone is impaired once they get out of the car.'
Mr Balderstone accused Premier Mike Baird of a 'cunning political move' in announcing medical cannabis trials earlier this year.
'The problem with those trials is that they will take up to five years and in the meantime people are still desperate to access medical cannabis because they know it works,' he said.
He said the Hemp Embassy at Nimbin continued to be inundated with calls from all over Australia from people desperate to get their hands on tinctures or oils to treat illnesses.
'We're talking people with cancer, or with children with autism or epilepsy, who have had no success with pharmaceutical drugs,' he said.
'These are the people who will get picked up in the nets being set for the drivers using things like Ice.
He said it was time for local police to make a stand and make their views known to their superiors.
'I know for a fact that local cops are embarrassed because this testing has nothing to do with impairment,' he said.
'It's just a rort and creates more disrespect for police.'
But senior police appear determined to continue with the testing regime.
Assistant Commissioner John Hartley, the commander of the Traffic and Highway Patrol Command, told Fairfax media that the tests were 'a strong program aimed at deterring people who take illegal drugs from driving a motor vehicle'.
'Between 2010 and 2014, 14 per cent of all fatalities involved a driver or rider with an illegal drug in their system,' he said.
And Bernard Carlon, the acting executive director of the Centre for Road Safety, said drug-driving was a serious problem across the state, with one in three tests this year returning a positive result, compared to one in 300 alcohol tests.
'This is why we're stepping up the fight against drug-driving.'
This included tripling roadside drug testing to 97,000 tests annually, and rolling out dedicated drug-testing vehicles to every NSW region.
Mr Balderstone said it was time for NSW politicians to stop having a bet both ways on the cannabis issue.