Ballina mayor David Wright is hoping the state government will stump up cash tonight to continue aerial surveillance for sharks along the north coast.
Cr Wright said aerial surveillance appeared to be the most effective way to monitor the presence of sharks.
He made the comments prior to tonight's public shark forum at Lennox Head, which follows a similar forum in Sydney recently.
Meanwhile, the NSW Department of Primary Industries has launched an online map that shows where tagged sharks have been detected.
So far ten great white sharks have been tagged, and each time they surface, the sharks locations are logged on the online map.
The downside of the tagging program is that sharks cannot be detected while they are swimming under water, and they can do that for hours, or even weeks.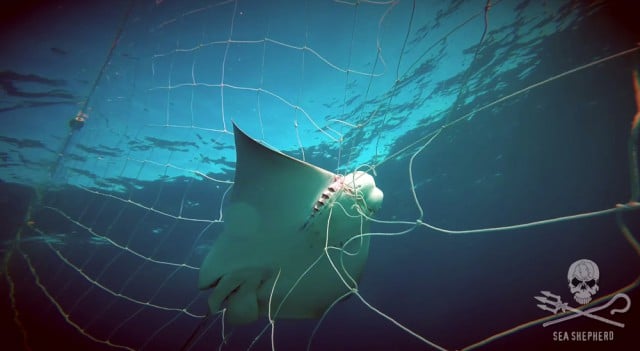 Tonight's forum comes as Sea Shepherd Australia has released figures showing that 17,131 marine animals have been caught in the New South Wales shark-meshing program since it began in 1950.
The majority of the animals caught have been hammerhead sharks and rays, according to the marine conservation group.
National Shark Campaign Coordinator Natalie Banks said another major concern was the number of dolphins that had been killed in the nets.
'There have been 162 dolphins caught within the shark meshing program since 1950, 159 or 98 per cent of these have died."
'These marine creatures have died unnecessarily for a program that only provides a false sense of security,' she said.
'With 40 unwanted shark encounters occurring at beaches with shark nets, Sea Shepherd has been calling for high successful non-lethal options to be considered instead.
'There are so many options available to us to protect ourselves while recreating in the ocean, and I am urging the New South Government to seriously consider the Shark Spotting program currently in place at Cape Town, South Africa,' she said.
'This is a program that spotted over 1,700 sharks since it was first initiated almost eleven years ago, and has had minimal shark encounters compared to what we have seen in Australia.'
Ms Banks said Shark Spotters was also the only immediate solution that the New South Wales review into non-lethal alternatives recommended.
The shark forum at Lennox Head will be held from 6pm to 7.30pm at the Lennox Head Public School Hall in Byron Street, Lennox Head.
NSW primary industries minister Niall Blair will host the meeting, which aims to provide up-to-date information on bather protection and shark attack mitigation measures.
The Lennox Head forum follows a gathering of experts in Sydney recently, prompted by the fact there have been 13 shark attacks in NSW so far this year, up from three in 2014, and one surfer has been killed.
The government has already responded to a spate of high-profile attacks on the NSW north coast with a $250,000 shark-tagging program and an independent review of detection and deterrence technologies.