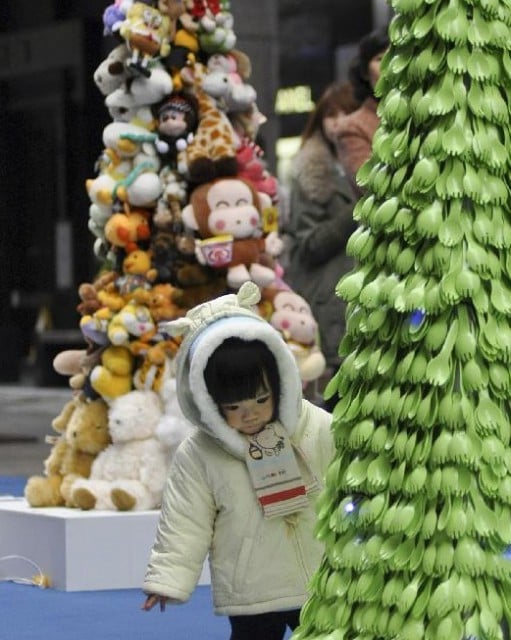 Luis Feliu
Christmas cheer in the Tweed's major shopping areas will come at a hefty $60,000 cost, almost half borne by ratepayers, for three huge plastic trees, and mayor Katie Milne is not happy.
In a late item during an extraordinary meeting of Tweed Shire Council last night, Tweed shire's pro-development faction succeeded in getting the shire to approve the big spend for the trees in the CBDs of Tweed Heads, Kingscliff and Murwillumbah.
According to shire general manager Troy Green, the trees will cost a total of around $60,000, with community and business groups contributing $35,000 and ratepayers the rest.
Cr Milne, who wanted a cheaper recycled version of Christmas trees instead, was outnumbered in the 4-1 vote (Crs Warren Polglase, Phil Youngblutt and Carolyn Byrne joined by Cr Barry Longland, with Cr Gary Bagnall absent).
Councillors last week were briefed in a workshop about the Xmas-tree decorations for the CBD areas.
The push for the decorations came from the business chambers in the three townships, of which the three National Party aligned councillors Polglase, Byrne and Youngblutt are members.
Traders expect to benefit from any increased custom over the festive period that the Xmas trees may bring to the CBDs.
Cr Milne told Echonetdaily that she had investigated options for recycled Xmas trees and suggested the Tweed should adopt ideas but was ignored.
'I was very concerned by the  business chamber's proposal for council to erect giant public Christmas trees for our main towns of Tweed, Murwillumbah and Kingscliff, despite their offer along with several of the clubs to part fund this,' she said.
'Whilst public Christmas trees would no doubt add to the Christmas spirit, it did seem that this last minute proposal costing $60,000 was too rushed and driven more by a commercial interests rather than community spirit.
'Their proposal was presented as a late item at Thursday's extraordinary meeting with no consultation with the community or our many creative organisations.
'Many councils around the world, including Australia, have taken the opportunity to create Christmas trees from recycled materials to promote a strong message of sustainability and creativity.
'There are some wonderful creations that use all sorts of waste such as reused plastic drink bottles, old bike wheels and salvaged soft toys in the shape of Christmas trees that look amazing and really put the magic back into Christmas.
'It saddens me that councillors, apart from Cr Bagnall, chose to truck up standard plastic trees rather allowing our community the opportunity a say in this. We will be stuck with these trees for at least 10 years.
'Christmas is a wonderful time to express our love and appreciation for each other but over the years it has become very commercialised with enormous amounts of money spent on plastic toys, unwanted junk, and worst of all unwanted pets.
'For many of us Christmas is a mixed blessing that has been tarnished by the lavish waste and unsustainable nature of the pressure on people to buy "stuff",' Cr Milne said.