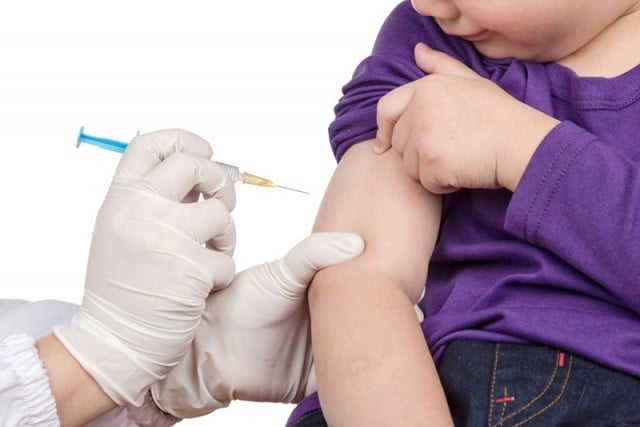 Parents who don't immunise their children will stop receiving childcare benefits next year. And the new laws have been welcomed by the group Northern Rivers Vaccination Supporters (NRVS).
The federal government's no-jab-no-pay laws will remove childcare benefits, rebates and the Family Tax Benefit A end-of-year supplement from parents who don't immunise their children.
The laws sailed through with the backing of Labor, the Greens and crossbench senators.
The new legislation was welcomed by NRVS spokesperson Alison Gaylard, who watched her two children suffer through whooping cough, despite being vaccinated, because she said 'herd immunity' in her home-town of Mullumbimby is too low.
Mullumbimby has one of the lowest levels of vaccination in the state, at around 50 per cent.
Ms Gaylard told local media that at first she was 'amazed how stringent' new laws were but she was pleased to see there were some carrots as well as sticks.
'Some people will do it because there is a financial incentive involved,' she told ABC.
'But they're also going to be incorporating education and awareness campaigns, they're looking at incorporating a reminder system,' she added.
'I can only see it as a good thing,' Ms Gaylard said.
The Australian Vaccination Skeptics Network had not commented on the legislation, which it had previously condemned, on its website this morning.
The changes start on January 1, 2016, with exemptions for medical reasons, after legislation passed the Senate on Monday.
Labor said the Department of Human Services needed to conduct an intensive review of how the scheme was working, with particular focus on the seven per cent of parents who don't vaccinate their children but are not registered conscientious objectors.
Independent Senator Nick Xenophon said adverse impacts of vaccination were rare but possible, and called for a Canadian-style scheme, which would compensate those affected.
Greens Leader Richard Di Natale attempted to move an amendment delaying the changes to January 1, 2018, arguing it shouldn't occur until data systems were fully operational in late 2017 to avoid people wrongfully losing payments.
But government frontbencher Mitch Fifield said any parent wishing to dispute a finding that they had not vaccinated their child would have a minimum of two weeks to provide documentary evidence before payments were affected.
Vaccination 'resistance' study
Meanwhile, a local midwife is conducting a PhD study into why so many Byron Shire residents are resistant to vaccinating their children.
Mother of four, Catherine Helps will soon begin interviewing parents who have decided not to vaccinate their children against diseases such as whooping cough, chicken pox and measles as part of her study through the University of Sydney.
To gain a clear picture of community attitudes to vaccination, Ms Helps will also be interviewing GPs, schools and childcare providers, public health clinicians, alternative health practitioners, and community groups.
In a later phase of her study Ms Helps plans to meet with senior high school students to gauge the intentions of the next generation of parents towards vaccination.
'Byron Shire is one of the Australian communities with markedly higher rates of vaccination refusal, with pockets within this LGA having vaccination objection rates of more than 30 per cent,' Mrs Helps said.
'This clustering of vaccination refusal is a national, and indeed global, phenomenon whose reasons are poorly understood.'
She said the study will be conducted on a confidential basis and be an 'open minded and respectful examination' of the topic.
'The aim is to gain an insight into the perspectives of parents who choose not to vaccinate their children. It will explore the vaccination trends within this community, and the influencing factors, as well as seeking to gauge the effect that living in our community has on the perceptions of childhood vaccination.'
Ms Helps is interested in why some parents start to vaccinate and then decided to stop, why parents decide not to vaccinate from the outset, and why some pregnant women might intend not to vaccinate their child.
– with AAP