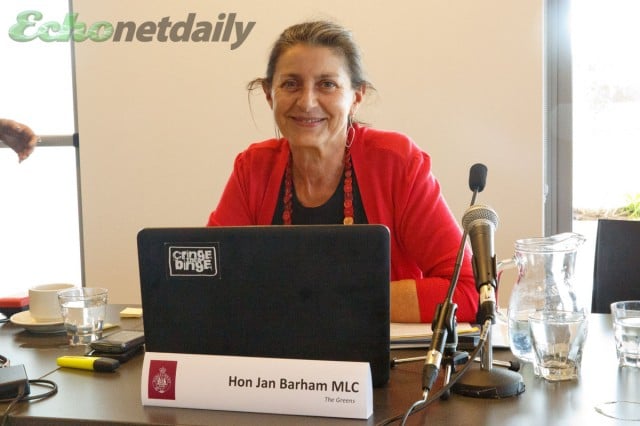 This month's historic Paris climate accord involving almost 200 nations was warmly welcomed in Byron shire where commitment to action on global warming has a long tradition.
Former Byron shire mayor Jan Barham, who carries on that commitment in state parliament as a Greens MLC, introduced the Climate Change Bill into the NSW Parliament in October, which is due to be voted on when Parliament resumes in 2016.
It proposes a zero emissions target for 2040 and provides for a whole of government response with action and adaptation plans required and legal challenge provisions if government does not fulfill it's obligations. It also establishes a Climate Change Commission.
The following is an extract from Hansard of Ms Barham's speech (the full speech and Bill is available at www.climateactionnsw.org)
I am very proud to introduce the Climate Change Bill 2015 on behalf of The Greens. I am introducing this bill because it is essential that we provide for the well being of future generations and protect our natural environment and precious biodiversity.
If we fail to address global warming and its impact on our climate we will leave an unsafe environment and a compromised quality of life to those who inherit the consequences of our inaction.
As a north coast resident for several decades, I have been very aware of the impact of the climate on our well being, safety and local environment.
We have seen the history of cyclones, storms, floods and destruction caused by dynamic weather patterns that are the hallmark of the subtropical region.
Warming of the oceans and atmosphere mean that the intensity of future events is likely to be amplified by climate change, and so too will be the impacts and the risks we face without the necessary planning and actions to prepare and instil resilience to face disaster.
Severe coastal storms in the 1970s led to an extensive investigation of coastal erosion by NSW Public Works.
The Byron Bay to Hastings report provided sound evidence for the adoption of a coastal management option that became known as 'planned retreat' in Byron shire.
At a state level, the 1990 NSW Coastline Management Manual required the consideration of global warming in the planning of coastal settlements and directed councils to assess potential impacts.
The manual also identified 'planned retreat' as a valid management option. This science-based response to strategic planning ensured that the recognition of past risks and threats to the social, environmental and economic security of the coast should be considered alongside the future risk of global warming.
I raise this example as a resident and representative of the north coast who lives with the understanding of why it is important to act.
There are those whose lives have been changed by the events of the past—homes lost, loved ones lost and their futures altered. They have been supported by our strong local communities and the commitment of disaster volunteers, but the government's duty of care to the people means they must.
Planning vital
As a community activist, then a councillor and mayor, I recognised the importance of a responsible approach to planning for the impacts of climate change.
Other events have shaped my appreciation of the magnitude of the risk and the need to act — the unavoidable facts that underpin my reasons for introducing this bill.
I recall the day in June 1992 sitting in a local cafe with a group of friends listening to our independent community radio station BayFM broadcasting reports from Rio de Janeiro about the progress of the Earth Summit.
In a single day, 154 countries had signed a treaty: the United Nations Framework Convention on Climate Change, making a commitment to ensure the stabilisation of greenhouse gas emissions to prevent dangerous climate change; allow 
ecosystems to adapt; ensure food production is not threatened; and allow economic development to proceed sustainably.
In November of the same year came the news that 1,700 of the world's leading scientists, including the majority of Nobel Laureates in the sciences, had presented a warning to humanity that 'human beings and the natural world are on a collision course' and that fundamental changes were required, including a 'move away from fossil fuels to more benign, inexhaustible energy sources to cut greenhouse gas emissions'.
Those moments of clear global acknowledgement of the urgent need to address global warming and ensure the ecological sustainability of our planet changed my life. I perhaps naively thought that they would change the world we live in.
Personal experience also has left me acutely aware of the health risks that may be intensified by the changing climate.
In 2003 I discovered that I had what I thought was severe flu but in fact was Ross River fever. I was forced to begin a rest period of a few months, due to the debilitating chills and headaches and painful muscles and joints known as polyarthritis.
I have suffered relapses and a compromised immune system. I hold great concern about the escalation of this condition and its impact on others. Extended warm seasons and more intense seasonal rainfall will create conditions that make outbreaks of mosquito-borne diseases more likely.
Last summer there was a seven-fold increase in Ross River fever infections in New South Wales, with 540 cases compared to 80 in the previous year.
Mosquito-borne diseases, heat stress and the impacts of extreme weather events—as well as the mental health issues that align with them—are some of the many health risks that confront us in a changing climate.
In 2002 Byron Shire Council joined the Cities for Climate Protection program, an initiative of the International Council for Local Environmental Initiatives delivered in collaboration with the Australian Greenhouse Office.
The goal was to reduce the greenhouse emissions levels of 1990 by at least 30 per cent by 2020. A greenhouse action strategy was developed and implemented across the organization.
In October 2007 my mayoral proposal for a climate change policy to address strategic planning for the shire was supported.
This year my successor, Greens mayor Simon Richardson, has proposed a zero emissions plan for Byron shire and has been invited to the United Nations conference in Paris.
It must be acknowledged that when government provides the leadership and support communities can and will respond.
Unfortunately, that leadership and support for action on climate change has been haphazard at all levels of government and, in many cases, actively undermined.
That is why the targets and the ongoing planning provisions in this bill are so important.
For the most part, we have lost a generation of action on climate change.