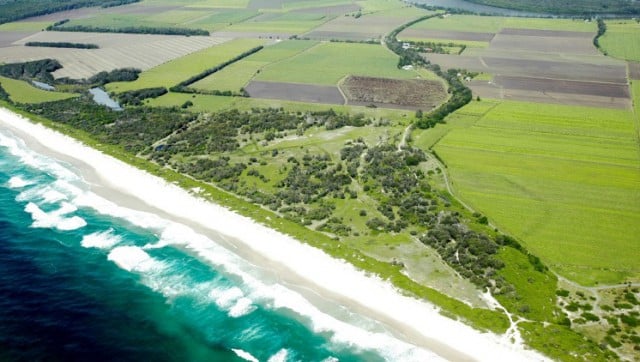 Real estate in the Byron area is heating up, with the region jumping from 28th most popular location for buying property in NSW to fourth, according to Chinese-language international real estate website Juwai.com.
A luxury real estate agency based on the Gold Coast was quoted in today's Sydney Morning Herald saying 14 Chinese investors had flocked to inspect a 23-hectare block with absolute beach frontage between Ballina and Lennox Head recently.
'We have seen Chinese buyers in the Gold Coast for years, but they now seem to be looking further afield to the more exclusive Byron surrounds,' said Dominique Corbett of Corbett & Co.
'They love the idea of creating a pristine eco retreat with a golf course in a place that is this close to amenities and direct flights to China via Coolangatta,' she said.
But local agencies on the ground in Byron Bay dispute the claim that the region is awash with Chinese buyers, although they agree the market is the busiest it has been for years.
James Young of Byron Bay First National told Echonetdaily the agency was 'almost out of stock' after a big rush before Christmas.
'We've had our best December in years, with contracts being exchanged right up until Christmas Eve,' Mr Young said.
'We're selling dreams to people with deep pockets and it's having an effect right across the region, including Mullum and even Ocean Shores.
'But we don't have Chinese people knocking on the door looking to get into real estate in Byron Bay,' he said, adding that it might be a different story 'right at the top end of the market and among some developers.'
Buyers' agent Michael Murray of Byron Bay Property search agreed.
'Maybe bigger commercial stuff is finding interest from big Chinese investors but agents will tell you we never really get any foreign buyers and especially not Chinese,' Mr Murray said.
'I don't see them out surfing either,' he added.
Mr Murray said that the Gold Coast and Brisbane get Chinese buyers 'to an extent', adding 'they're a very specific environment with off-the-plan developments that bypass the Foreign Investment Review Board regulations and allow them to park their money in a relatively safe environment.'