Greens leader Richard Di Natale will launch the party's federal election campaign for Richmond candidate Dawn Walker on Friday 29 April at Mullumbimby.
Senator Di Natale, fresh from addressing the National Press Club yesterday, will be a guest speaker at the 6pm launch at Mullumbimby Civic Memorial Hall and joined by Ballina's Greens MP Tamara Smith, Byron shire mayor, Simon Richardson as well as Greens members, supporters and community members.
Due to an overwhelming response to his visit, organisers were forced to move the event to a large venue to fit everyone in. It was previously set to be held at the recently revived Brunswick Picture House.
Today, Senator Di Natale will tour the electorate, which spans the coastal strip from the NSW-Queensland border to south of Ballina, and takes in rural towns Murwillumbah and Mullumbimby and surrounding villages.
In his party election launch speech in Canbera, Senator Di Natale said the Greens' priority in the next parliament was to renew Australia's energy system, legislate strong climate laws to protect the Great Barrier Reef and protect Australia's forests.
He said too many years had been wasted already and Australia had to get back on track for a renewable future.
'It's time to make the big polluters stop getting a free ride,' the senator told journalists.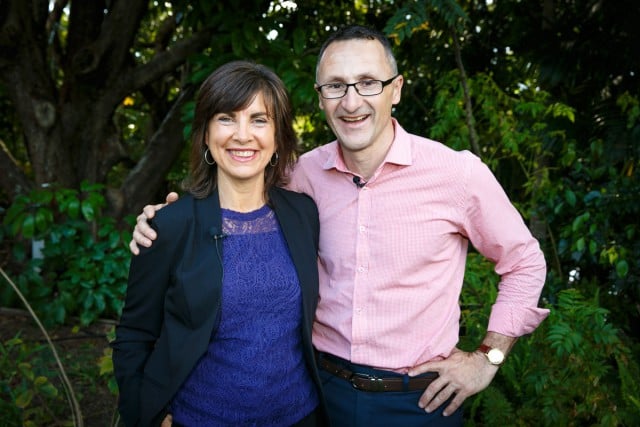 Senator Di Natale also said it was 'inconceivable' that the Greens would form a minority government with the coalition did not win an outright majority, but they may consider a deal with Labor because it gave them a better chance of pursuing serious Greens initiatives at federal level.
The Greens, he said, had been the only innovative party promoting new ideas and policies such as on measures against negative gearing and superannuation tax  breaks, unlike the two mainstream parties which had played catch-up in the debate.
He also criticised Labor, the Nationals and Liberals for their support of the fossil fuel industry and the controversial subsidies they give major polluters.
Plastic bags ban urged
Meanwhille, NSW Greens NSW MP Dr Mehreen Faruqi has urged the coalition state government to heed a Federal Senate Inquiry report that yesterday recommended states ban single use lightweight plastic bags.
The NSW government has previously stated that a plastic bag ban was a low priority.
The Greens have a bill in NSW Parliament that would ban single use plastic bags, in line with what is currently the law in South Australia, the Northern Territory, the ACT and Tasmania.
Dr Faruqi said the Senate Inquiry recommendations 'add to the overwhelming evidence that NSW needs to ban single use plastic bags'.
'About 50 million plastic bags end up in the Australian environment each year. This has undeniably devastating impacts on our wildlife and waterways.
'The NSW government has previously said it can't "chew gum and walk" in implementing both a container deposit scheme and a plastic bag ban. Today's report shows that both are essential.
'A plastic bag ban is in place in four other states. All NSW has to do is take this model and implement it. This is a policy that could be introduced very quickly.
'If premier Baird wanted to take a break from environmentally vandalising the state for five minutes, the Member for Ballina, Tamara Smith MP and I have a "ban the bag" bill ready and waiting to go in both houses of Parliament,' Dr Faruqi said.
Contact:  R