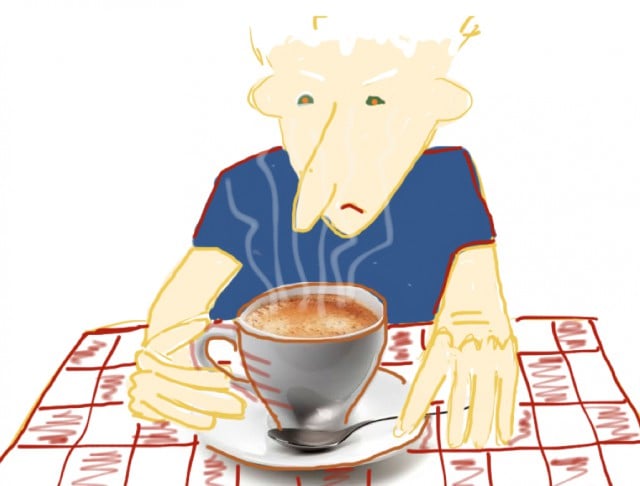 S Sorrensen
Lismore. Tuesday, 7.50am
I've had enough of these buggers. I'm not normally an angry man, but today as I sip coffee at the cafe, I feel my anger rising like a warming ocean.
Rich people in power. How did it get to this?
Was it Plato who said that people in government should have no personal wealth because it would obviously corrupt their ability to do what is best for the people? I think so. Or was it Superman? One or the other. Both insightful heroes. (X-ray vision is like insightful…)
With their blandness developed through focus groups, these rich blokes in their dull suits and neat haircuts look like automatons, and are interchangeable (and often interchanged). They act like automatons. Any individuality – any humanity – is quickly eradicated. Humanity, with its compassion and love of children, is a threat to the greed ethic; a threat to the party line. Both parties.
And, to top it all off, my latte tastes weak. And the beans are a tad burnt. Jeez, how bad can things get?
These mutants talk in a stilted way, like Daleks, heartless buggers from another planet (Skaro). They do to language what they do to everything. With furrowed brows and a faked sincerity, they impersonate concern, but, it's obvious to everyone what they're really saying is 'Exterminate. Exterminate'.
I know that the Christ fella, another hero, didn't have much truck with the rich. He didn't beat around the bush about it either. The rich will not go to heaven, he said at one of his shows (or was it the film?). He didn't say they might get to heaven if, say, they got rid of the deficit, or sent their kids to a Catholic school, or got cannabis users off the road, he said they wouldn't get into heaven. Peter the Bouncer would turn them back at the pearly gates like a boatload of refugees – despite the Salvatore Ferragamo shoes. (Didn't Superman have something to say about giving shelter to those needing refuge? Or was it Dr Who?)
The rich are all through our governments, like a malignancy. They are big business, cheating the country of its common wealth, polluting the water, warming the future, and hiding their money in off-shore schemes.
They rip up land and rip off indigenous people to make their wealth. They pay bugger-all taxes; instead, they rifle through the chattels of the poor to pay for the infrastructure required for their excesses. They cut spending on education, the environment and health, while subsidising climate-changing quick-buck schemes that make a mockery of all that palaver in Paris.
I take another sip – ew. Could be the milk that's burnt…
Like junkies, they are self-obsessed buggers, with an addiction that overrides any sense of the common good. As their wealth and bloat grows, their need becomes more and more demanding, more blatant, and the planet is sucked dry.
This is the new morality. The new normal: A strong currency is bad. Cheaper housing is bad. Water is for mining. Forests are for clearing. Rich is right.
The waitress brings coffee to another table. She passes by me and smiles.
'Enjoying your coffee?' she asks. Oh dear.
But things are changing. No-one believes them anymore. We're over it.
After the chit-chat and champagne in Paris, it's business as usual: The Carmichael mine is approved, protesters are to be heavily fined and jailed, and taxes are for the poor.
The Emperor wears no clothes!
I'm not going take it any more. It's time to speak out. Bugger these buggers.
'Oh, the coffee's fine', I say to the waitress.
She flashes her smile at me again, and moves onto the next table.