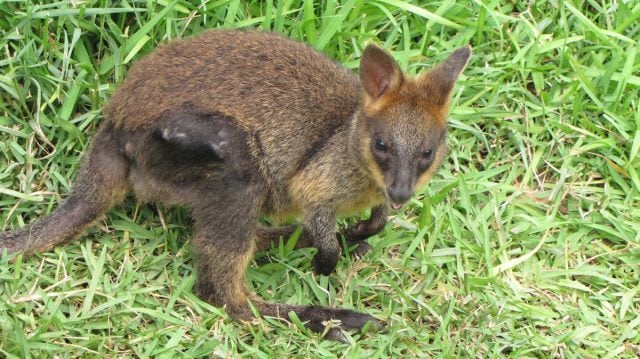 A young wallaby found next to its dead mother near the Tyagarah Airfield ten weeks ago is on the road to recovery after undergoing surgery on an injured leg.
The wallaby has been in the care of a WIRES volunteer since the surgery at Vitality Vetcare practice in Bangalow.
'Wallabies are very timid, sensitive and gentle creatures who are prone to suffer badly from stressful events,' a WIRES spokesperson said.
'There was the threat of myopathy, leading to a slow and painful death.
'He would need close monitoring during his initial care period in a quiet, inside space.
After a couple of days, the wallaby was taking to his food well, his eyes were bright and he was examining his surroundings with healthy curiosity.
However, the way he held himself in his handmade pouch seemed a little out of kilter.
He was encouraged to hop out to see if all was in order.
After one hop he collapsed on his right hind leg.
He was immediately taken to Vitality Vetcare, Bangalow's holistic veterinary practice.
X-rays revealing serious injuries were sent to Currumbin Wildlife Hospital for feedback.
It was decided that delicate and complex surgery was required.
The critical question: Would the young wallaby survive the surgery and if he did, would he be able to live freely and independently in the bush?
The Vitality team decided to go ahead and after three hours of surgery, the young wallaby went home with his WIRES carer where he was to be kept quiet and confined for a period of four weeks.
The first few days post-surgery were not difficult but as the little one's spirit revived and his health improved, he seriously challenged the carer in her efforts.
Consultation took place again, this time with the WIRES Northern Rivers macropod coordinator.
The wallaby would be allowed into an outside enclosure with other wallabies but he still had to be limited in movement.
An upside down baby cot with his personal pouch was installed in a large outdoor enclosure.
He was able to enjoy being outside — basking in sunshine, munching green grass and interacting with other wallabies — even while his physical exertions were limited.
Four weeks after surgery, the patient was taken to Vitality Vetcare again. Pins were removed and new x-rays taken.
The surgery was an overwhelming success. WIRES would be able to release another rescued animal back into the wild.
WIRES is a registered charity, not a government service, and relies heavily on donations from the general public. Your all-volunteer Northern Rivers branch needs various types of assistance — as not all members do animal rescues. Call the local 24-hour hotline on 6628 1898 or go to http://wiresnr.org/Helping.html to find out how you can help.