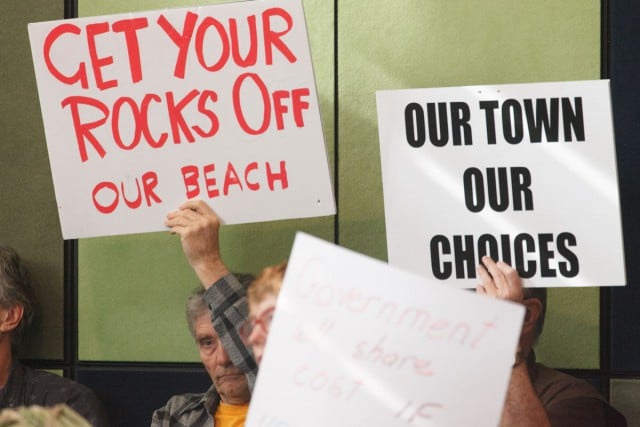 Given its track record, the Byron Shire Council's majority faction will be keeping its steady course into 'inevitable uncertainties' at this Thursday's extraordinary meeting called to consider its highly contentious and incomplete coastal zone management plan (CZMP).
National Party-aligned councillors Sol Ibrahim, Di Woods, Alan Hunter, Chris Cubis and Greens defector Rose Wanchap are all expected to vote to for the CZMP to go on public display, despite it not including comment from experts within the state government.
It's the first of two extraordinary meetings planned, which Echonetdaily understands is because councils with near-complete CZMPs have been instructed to submit by June 30.
It's also expected the Coastal Protection Act 1979 will be repealed on June 30, giving this CZMP less legal certainty.
The second extraordinary meeting is on June 29, just one day beforehand, which presumably gives enough time to lodge the plans to the state government.
Additionally, council elections will be held in September, and that adds to the pressure to complete their agendas.
On the assumption the meetings will be rubber stamped and put before the public, Cr Duncan Dey (Greens) has flagged his concern that such a short time frame will not give the public enough opportunity to comment and will put unfair pressure on staff assessing public submissions.
Former Greens mayor Jan Barham, who is now an upper house MLC, has raised serious allegations of improper process and legal issues.
Major financial burden unknown
Ms Barham says plans to build a 1.6km rock wall at the Belongil is 'deeply flawed'.
She says the report 'omits vital information regarding the state government's position on the coastal plan.'
'The community is being denied the right to know the advice of Office of Environment and Heritage (OEH) and whether the minister [responsible] for Crown Lands is willing to give approval for the building of the rock wall on public land, Ms Barham said.
'The impact of rock walls is well known: there is ample evidence that the placement of hard works on the coast causes the loss of a sand beach and creates erosive effects on adjacent lands.
'The plan also fails to properly identify the Cost Benefit Analysis (CBA) requirement and disregards the potential for a major financial burden on the community in the future in addition to extensive construction costs,' she added.
'This flawed and dangerous plan [by the ruling council majority] is yet another example of the disregard and disrespect for the community of Byron Shire.'
Ms Barham also raised concerns that Council's general manager, Ken Gainger, allowed such poor process to proceed.
'It defies belief that the general manager would allow a report to be presented to the elected council for decision making and to the community with so many failings that include: inconsistency with current coastal planning legislation; a lack of state government advice; the absence of legal advice in relation to future risk and legal action; and the dangerous future risk of losing the beach, which is the priority draw card for the tourism industry.
'The draft CZMP fails to consider the impacts on the Belongil estuary and also ignores the significant impacts on the environment including the roosting, nesting and feeding sites for endangered migratory birds, putting at risk the obligations under international treaties,' said Ms Barham.
Staff replies
Echonetdaily asked Council staff whether the short time frame available to assess such important information was a concern to them and whether they thought it would compromise their ability to do a competent job.
In reply, director of sustainable environment and economy, Shannon Burt, said staff will be assessing coastal submissions 'as they are received'.
'It's a tight time frame that has been set by Council and the introduction to Parliament of the draft Coastal Management Bill, adds complexity. However, we will be doing everything we can to achieve the current deadlines,' she said.
Planned retreat $40 million: Cr Ibrahim
The chef architect of the draft CZMP appears to be Cr Ibrahim.
He has previously claimed that it has taken 'too long' for a CZMP to be adopted, although there is evidence that previous attempts that were produced and ready to be gazetted were inexplicably withdrawn amid legal threats by Belongil residents.
Echonetdaily asked him how pushing an incomplete CZMP upon residents and pressuring staff to assess submissions in a short time frame aligned with Council's stated aims within its Community Charter for Good Planning.
Cr Ibrahim replied that the last CZMP adopted under the Greens-led council 'chose planned retreat, despite the results of its cost benefit analysis and hazard study recommending coastal protection.'
'The previous Project Reference Group (PRG) did not have a single landowner representative. Submissions against planned retreat were ignored. That Council did not even commission advice as to the legality of planned retreat despite Council being a respondent to multiple claims for negligence, Cr Ibrahim said.
'By contrast, this council does have community and landowner representation on the PRG. We have exceeded the required community consultation at every stage of the process.
'This Council has taken heed of the clear recommendations of our expert consultants. Our cost benefit analysis, which is fully compliant with OEH advice, proves that planned retreat is unaffordable, with an estimated cost of $40 million to implement.'
Cr Ibrahim said the council was one year behind a ministerial direction for completion of this CZMP.
'Councils with near-complete CZMPs have been instructed to submit by June 30, 2016,' he said.
'The pros and cons of the limited practical options for management of Belongil beach are the most debated of any issue in this Shire. Persons wishing to make a submission are encouraged to do so as soon as possible.
'This Council is going to resolve a complex problem that has a history spanning half a century or more,' Cr Ibrahim said.
He added that there was 'no ideal solution.'
'We can only do what is affordable and lawfully achievable. Planned retreat is neither of these,' he said.
Cr Ibrahim maintained Belongil beach would 'remain safe and accessible outside of severe storm events.'
'People enjoy Belongil beach and the nearby services with the existing ad-hoc poor quality protection works.
'Their enjoyment can be heightened with construction of vastly improved access and public walkways paid for by property owners. Modern engineering design will increase sand volumes and reduce the impact of storm events.
'The rest of the Belongil community, the homes, restaurants and accommodation will be protected. Planned retreat will achieve nothing positive. No proper safe access, no public walk ways or viewing platforms, no wheelchair access. Only years of costly protracted legal battles that will never achieve a solution,' Cr Ibrahim said.
What's a CZMP?
The CZMP lays out a long-term plan for beaches around the Byron Bay area, and reflects the 'current understanding of sea rise projections (0.4m for 2050 and and 0.9m for 2100).'
Coming in at 459 pages, Byron Shire's CMP is available online within council's extra agenda.
It begins with warnings from staff of unknown factors and variables, such as funding opportunities and yet to be determined agreements and management arrangements with landowners.
Under its coastal zone management program, the Office of Environment and Heritage (OEH) says it 'aims to reduce the impact of coastal hazards and maintain the ecological health of our estuaries while accommodating population growth. The program has a long history of state and local government working collaboratively on coastal zone management.'
'Under the Coastal Protection Act 1979, coastal zone management plans can address risks from coastal hazards, such as coastal erosion, as well as managing threats to estuary health. These plans also need to address the projected impacts on climate change, including projected sea level rise, on coastal erosion risks and estuary health.'