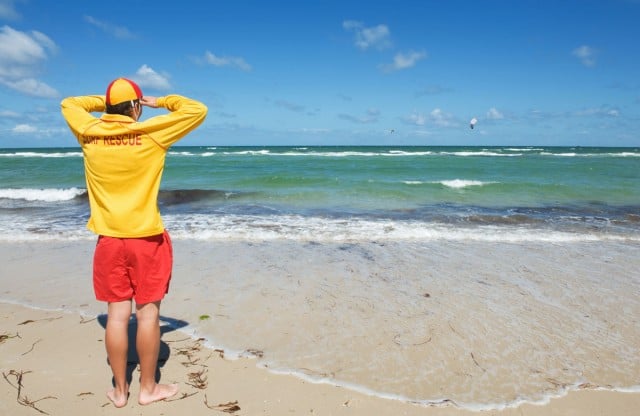 A tourist's dream holiday nearly became a nightmare after she was washed off rocks and was rescued by a lifeguard at Broken Head on Thursday.
It is understood that the woman thought to be in her late 20s was walking around the headland with a friend at around 10:15am when she was struck by a wave and washed into the surf.
Fortunately she was dressed for swimming, and while her friend immediately contacted police she attempted to swim back to the safety of the rock platform but was unable to scramble back on due to the powerful conditions.
The response came Australian Lifeguard Service at the only patrolled beach in the area, Byron Bay's Main Beach.
It took the ALS's Ruben Roxburgh about five minutes to reach the area on a jetski, arriving at the same time as police and the Life Saver Rescue Helicopter.
'At the time the waves were peaking at around two and a half metres and I knew that with the currents there was a good chance she would drift further out to sea,' Mr Roxburgh said.
'After searching the first bay and not finding the woman I went out a little further to establish radio contact with the State Operations Centre. I saw police on the headland and the ambulance helicopter flying figure eights over the woman and she was only just able to keep her head out of the water.'
The woman was alert but on the verge of complete exhaustion when Roxburgh plucked her from the water. She also appeared to have suffered a number of minor cuts and bruises trying to fight her way back onto rocks.
'Had she been out there much longer we easily could have been talking about a drowning as she was in the water for a significant period of time.
'Today's successful rescue was the result of multi-agency co-operation of which the ALS is proud to play a part. We strongly encourage everyone visiting Byron Bay to swim at a patrolled beach and not at an isolated location,' Mr Roxburgh said.
The woman was later transferred to shore where she was assessed by paramedics.
Byron Bay's Main Beach will be patrolled by ALS Lifeguards 7-days-a-week throughout winter.