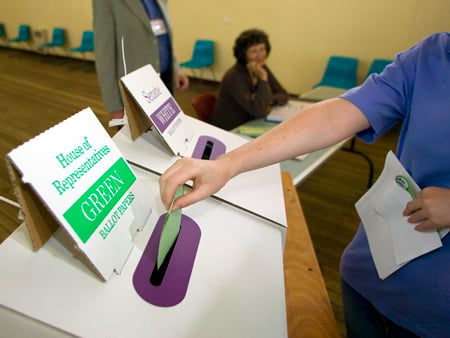 About four million voters are expected to cast their ballots before election day.
Early voting starts on Tuesday, sparking a frenzy of grassroots activity by the political parties.
Both major parties have already unveiled more than half of their policies, so attention will turn to refining their positive messages and talking up their opponents' negatives ahead of July 2.
At the 2013 election more than 3.7 million people voted early, or about 27 per cent of all voters.
Party strategists believe the figure could be one in three voters this time around, with Victoria and Queensland the states where it is most common.
Early voting has tended to favour the coalition but Labor is rolling out a new strategy to ensure as many pre-poll stations are manned as possible.
They will be armed with how-to-vote cards encouraging preferences.
The Greens confirmed on Monday the minor party would preference Labor in 139 lower house seats.
However, open tickets – where voters are not given any preference direction – will be run in the seats of Calare, Lyne, Riverina, Denison, Mayo, Barker, Grey, Hotham, Mallee, Scullin and Ballarat.
The Greens will also preference Labor in the Senate.
Prime Minister Malcolm Turnbull has directed the Liberals to preference the Greens last, or behind Labor, in every seat across the country.
He says there is a risk, with a large number of voters favouring minor parties and independents, that the election could deliver another hung parliament and a minority Labor-Greens government.
Labor will suggest voters put the Greens and other progressive parties ahead of Liberal and National candidates, but run open tickets in South Australia to reduce the chances of the Nick Xenophon Team winning seats.
The Greens say Labor and the coalition are becoming the "Coles and Woolies of politics", trying to lock out non-major parties.