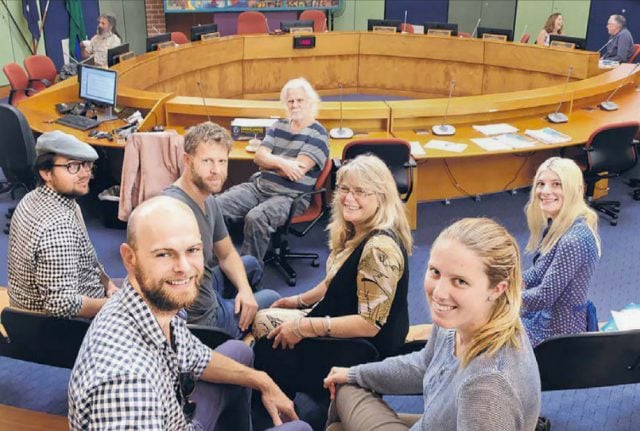 Not Jack Kerouac
In what other job do you get to preside over an operating budget of $73 million while being paid a nominal wage of just $18,840 per annum?
Aspiring council candidates and the otherwise curious came to a free candidate workshop at the Mullumbimby chambers last Thursday.
It was a chance to hear a presentation on what is expected of councillors as well as to learn the inner workings of Council and the relationship it has with the state government.
Perhaps the most encouraging sign for local politics was that there were many young and new faces in the group.
Charlie Wilson articulated his desire for a change in culture in the chamber, telling The Echo that after seeing for himself a council meeting in action, he was appalled by the behaviour of the council majority towards the minority.
He said it needed a change.
Along with the eight interested in becoming candidates, Cr Alan Hunter was on hand to offer his insights and wisdom. Byron Bay Chamber of Commerce president Gail Fuller was also in attendance.
Former Leichhardt mayor Marie Sheehan presented the workshop, and said councils and government departments are moving more towards a corporate structure, placing emphasis on returning a dividend for departments. 
New amendments to the Local Government Act 1993 are underway in draft form, Ms Sheehan said.
That piece of legislation, and the Environmental Planning and Assessment Act 1979, are the most important pieces of legislation to understand as councillors.
The importance of having a strategy to communicate with those who appear to have made their mind up was discussed, as was the difference between robust debate and personal attacks.
'Don't work alone,' she also said, and suggested that asking questions and seeking help from experts will get better results. There is also a need to make informed decisions, she said, and that can be achieved by asking for underlying assumptions and formulas that apply to staff and other reports.
AirBnB became a topic of conversation, and was described as a 'disrupter' industry. Another is obviously Uber, and as these will continue to grow, there is a need for governance to seek a new approach to adaptation.
Ms Fuller told the group that as AirBnB is based in the US, it pays no GST. Byron Bay is also being targeted by the corporation as a 'superhost', she said, along with Melbourne and Sydney, owing to high visitation numbers.
Around four people attended the later session, held that night from 6pm. 
Richmond Valley Council 
Richmond Valley Council will be holding two community and candidate information sessions arranged to help guide people interested in running for council.
The first information session will be on Monday, 1 August in the Casino Community and Cultural Centre, 35 Walker Street, and the second will be for Mid Richmond residents on Wednesday 3 August in the council's Woodburn Street office in Evans Head. Both sessions will start at 5.30pm and will run for around an hour and a half.
Anyone can stand for election as a councillor, provided you are over 18 and an Australian citizen. It does not matter if you are male or female, Aboriginal, Torres Strait Islander or born outside Australia. You may be a young adult, a person living with a disability, a working person or a retiree.
It doesn't matter if you don't think you have the experience in local government – if you are passionate about your local community and want to make a real difference then you are encouraged to consider this opportunity and stand for your community.
The Office of Local Government has prepared a range of materials to assist prospective candidates in making an informed decision about standing for local government elections, which can be accessed at www.olg.nsw.gov.au or www.richmondvalley.nsw.gov.au