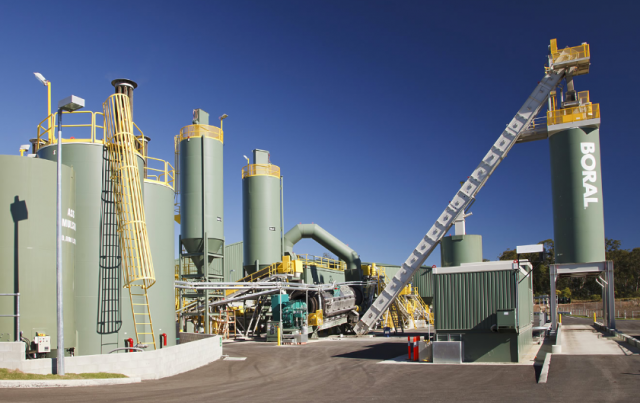 The Ballina Shire Council will today consider an application to expand operations at Boral's bitumen batching plant, located just a few hundred metres from a residential area of Alstonville.
An extraordinary meeting will be held at 4pm to consider the expansion, which has drawn a large number of responses from nearby residents calling for the plant to be relocated elsewhere.
The application proposes to alter  a condition of the plant's development application which requires aggregate and dust for the production of asphalt to only be obtained from the immediately adjoining Gap Road Quarry.
Cr Jeff Johnson of Lennox Head has been critical of the application, and also the timing of the meeting as it is the last day before the council goes into caretaker mode prior to the election.
'It is my position that the incoming council should be determining this DA, and that it is not appropriate to convene an extraordinary meeting on what is effectively the last sitting day of the current council, Cr Johnson said.
Nearby residents are concerned that an approval would mean an increase in the number of trucks on local roads, with an extra 32 extra quarry trucks per day.
It would also allow Boral to double the production rate from 50,000 tonnes to 100,00o tonnes per annum.
A council report states that many of the matters raised in the 18 objections, which include a petition with 66 signatures, do not relate to the modification application.
Cr Johnson has said however that as the landowner receiving income from Boral, the council has a conflict of interest in the matter, and 'is not putting the health of Alstonville's residents first.
'I have personally smelt the strong bitumen smell from inside a home in the Panorama Estate and felt quite ill as a result,' Cr Johnson said.
'To make matters worse, the strong bitumen smell was smelt in a 6-year-old child's bedroom and can often be smelt all night long.
'It is acknowledged that children are at a far greater risk of developing cancer from bitumen fumes.'
In a report to the council, staff said the concerns raised regarding emissions had been forwarded to NSW Health and the NSE environment Protection Authority for a response.
'It has been submitted that asphalt is a petroleum derived product that contains poly aromatic hydrocarbon (PAH) and that emissions from asphalt plants are classified as potentially carcinogenic to humans,' the report says.
'Notwithstanding that the current modification application has no direct nexus to the plant's emissions; Council officers have discussed this matter with Safework NSW.
'Safework NSW has advised that asphalt must be handled in a well ventilated area to reduce the risks to workers and that a crew working on a road in an outdoor area would be considered well ventilated.
'As Council does not have expertise to adequately address the particular emissions claims that have been raised, these concerns are being separately forwarded to NSW Health and NSW EPA for their assessment and response.
'As stated earlier the modification application only relates to additional truck movements that are holding raw fines and aggregates from other quarries (i.e. not containing PAH).
Therefore the modification application does not directly relate to or impact on this consideration. This particular issue will need to be, and is being, followed up as a separate matter by the Council.
Staff have recommended that the modification application be approved.
The council meets today at 4pm in the council chambers in Cherry Street.