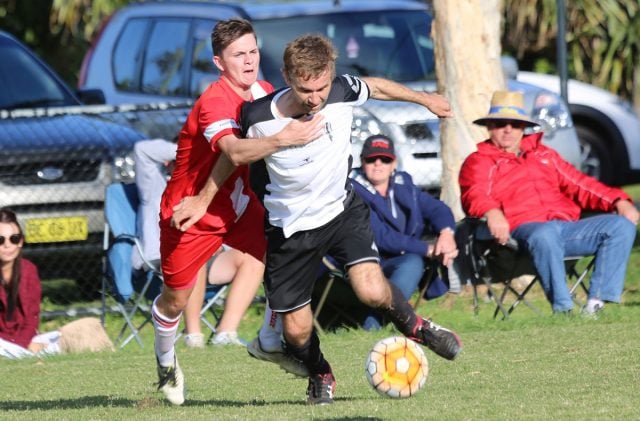 Dogwhistle
The Northern Hotel Byron Bay Rams Premier League team out-classed Lismore Workers on Saturday to take out the Football Far North Coast elimination semifinal with a 2–0 victory at the Rec Grounds.
Despite ongoing staff shortages, the Byron boys shrugged off Workers' aggressive 'physicality' and dominated the match with a slick passing game, hammering the Workers' goals for much of the torrid ninety minutes.
The intense battle for the midfield produced plenty of fireworks, with Quinn McDonald, Lachie Dewar and Herick Schuenemann besting the tough Redmen across the park. Workers' quick counter attacks were repelled by the Byron defence, with outstanding work from Emanuele Altarui, Josh McIntyre and Shaun Packham.
Thirty-three minutes in, Jono Pierce's relentless pressure cracked the Workers' backline and 2016 Golden Boot, Aaron Walker, carved up the defence to drive home Byron's opener. The Byron goal only firmed the resolve of the Lismore squad, however, and the contest became harder, faster and more heated as Workers struggled to get back into the game.
The disciplined Rams maintained their composure and the upper hand. Another Jono Pierce bullet, deflected by the Workers' keeper, was pounced on by the mighty Quinn McDonald whose decisive strike collected a well-earned goal.
The final 2–0 scoreline eliminates Workers from the 2016 competition and puts the Rams into another sudden-death semifinal with Richmond Rovers on Saturday in Lismore.
After enjoying a week off, Byron's Reserve Grade Pointscore Champions also face Rovers in their first semifinal on Saturday from 1pm.