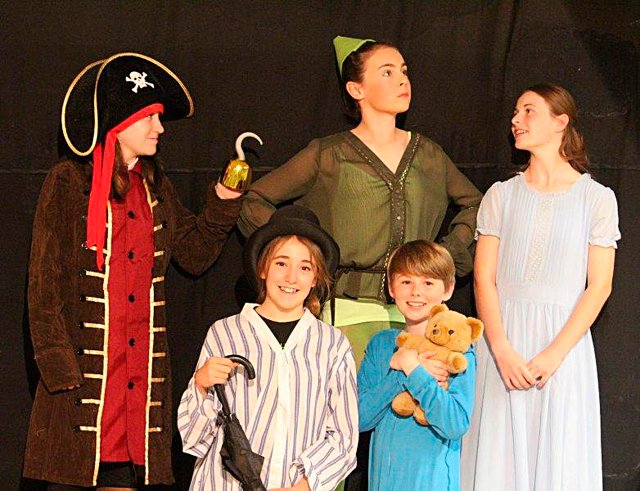 Peter Pan in the Bright Lights
Bright Lights Performance School's junior musical theatre group is presenting Disney's Peter Pan Jnr. The 60-minute musical, designed for middle-school-aged performers, is based on the play by JM Barrie and the 1953 Disney film. The junior musical yheatre cast contains 15 students professionally trained by Rebecca Balfour and Lee Purdie. Peter Pan Jr is the story of the boy who wouldn't grow up and the girl who has to. After finding his shadow in the Darling family nursery, Peter teaches Wendy, Michael and John how to fly and sweeps them off to Never Land, where they meet Lost Boys, mermaids, Indians and, of course, pirates. If the children are ever to return home, Peter must defeat Captain Hook with the help of Tinker Bell and her fairy friends. Sunday at the Byron Community Centre at 2pm and 6.30pm.
Thinking Big
In a lightning-fast tag team manoeuvre, NORPA's Big Think announces a Chaser switcheroo in the forthcoming State of Indignation event. Previous contender Charles Firth has been whisked away to cover the US election so he has deftly passed the baton to Chaser stablemate Mark Humphries.
In 1964, Donald Horne called Australia the lucky country and described it as run mainly by second-rate people who share its luck. Fifty years on, has much changed? Are we still the lucky country?  Evidence would suggest we're far from a clever country!
Join NORPA's Big Think on Tuesday 11 October at 7pm for a wide-ranging conversation on politics, both local and global, on terror, both real and imagined, cultural diversity and tolerance, but not in my backyard, and the importance of dangerous ideas. NORPA Big Think event featuring Mark Dapin, Mark Humphries and Zachary Jane
Tuesday 11 October, 7pm. NORPA at Lismore City Hall, tickets: $30, bookings: www.norpa.org.au or 1300 066 772.
Voodoo Revue
Voodoo Revue is a brand-new, mysterious and tantalising variety of song, circus stunts, illusions and comedy brought to you by sideshow celebrity The Space Cowboy; Queen of Quirk Rani Huszar; pop diva Phoebe Jacobs; comic spoof Dandyman; and Daredevil Zoe L'Amore. A night of thrills, chills, trills and spills! Don't miss this comedy circus shock show. Friday at the Brunswick Picture House at 7pm.
Curly spring sing thing!
Celebrate spring with The Curly Cousins these school holidays. With their trademark humour, multi-instrumental talents and sweet harmonies, Coco, Miss B and Sunshine invite audiences young and old to join them for a spring sing thing! A big dose of fun for children 2–8 years and their families. The Curly Cousins will be at the Drill Hall, Mullumbimby, Saturday 8 October. Two shows: 10.30am and 2pm. Tickets $10, or $30 for a family of four, available at the door from 10am. Enquiries: [email protected] or phone 6680 3411.
Dandy MAN
A must-see show of outrageously funny proportions. Australia's international award-winning prince of circus and physical comedy, Daniel Oldaker, aka Dandyman, will thrill with a kooky, eclectic, unique and quirky show featuring: jaw-dropping circus, absurd acrobatics, side-splitting comedy and mischievous high-jinks. See Dandyman balance watermelons on his head, witness everyday drinking straws come to life before your very eyes. His clowning rivals Buster Keaton; take a dash of Mr Bean, throw in a pinch of Jim Carrey, a handful of Frank Woodley, cross Salvadore Dali with Jerry Lewis, throw in some juggling balls, a bow-tie made of straws and a whole lot of charisma and you've arrived somewhere in the neighbourhood of Dandyman. Don't miss this master of manipulation in his family-friendly show,
Saturday at the Drill Hall in Mullumbimby at 11am and 7pm. Adults $20, children $10.
Tickets: www.varietyville.com or Mullum Bookshop, on the door if still available. Info danieloldaker.com or 0404 154 292
Embrace Again
Owing to popular demand, Brunswick Picture House are screening Embrace. When body image activist Taryn Brumfitt posted an unconventional before-and-after photo in 2013, it was seen by more than 100 million people worldwide and sparked an international media frenzy. The film follows Taryn's crusade as she explores the global issue of body loathing, inspiring us to change the way we feel about ourselves and think about our bodies. In a world swamped by altered, unrealistic and sexualised images of women, this is the kind of informative, helpful film parents might want to take their daughters and sons to see, and teachers might want to show their students.
Saturday 6.30pm at Brunswick Picture House.
Open mic at the Court House!
The Court House Hotel in Mullumbimby has a brand-new lineup of hot new open mic comics for their open mic comedy night. Now every quarter, you don't want to miss the hottest new talent on the block. Fast, furious, and always outrageous, emceed by Mandy Nolan – and free! Thursday 6 October at 8pm.
Scale it down
Experience Scale Free Network's Microscope Drawing Laboratory in Mullumbimby these school holidays! Led by local artist and art teacher Jacqui Smith, the project – supported by Arts NSW's Country Arts Support Program – comprises Microscope Drawing Workshops for children aged 8–16, a Microscope Drawing Laboratory Open Day for the whole community and an exhibition at Mullumbimby Library of artwork produced.
The four Microscope Drawing Workshops are on 5 and 6 October at 10am–12 noon and 1–3pm at the Byron School of Art, Dalley St in Mullumbimby. Children will be introduced to ideas of scale, forms in nature, and the connections between art and science. Booking is required for workshops. Please contact Jacqui on 0402 129 811 or [email protected] Workshops and open day are FREE.
Divine Yoga
This Saturday in Murwillumbah sacred dance artists present a unique performance where yoga meets dance. Featuring the Odissi exponents Sanatani Romboli (Italy), Bharatnatyam Ballerina Aruna Pavrithram (Sydney), and Murwillumbah's own Nayta Shakti Dance Collective (fresh from their recent Sydney Opera House performance), they will collaborate with special guest artist and dance scholar Monica Singh Sangwan (Melbourne). Live music accompaniment will be presented by Bhavi and LAYA with vocalist Mohini Cox.
Dance in Devotion at Murwillumbah Civic Hall. Doors opening from 5pm a pre-event mini 'Festival of India'  titled Peacocktail. Dance performance from 7pm. $20. Contact [email protected] or 0477 167 336.
Talkin' Big Lez
Meet the three guys from Tweed River High School who are rapidly becoming one of Australia's biggest online sensations with their hit comedy series The Big Lez Show. Screenworks and Screen NSW are bringing Jarrad Wright, Izak Whear and Tom Hollis to Byron Bay Community Centre on Wednesday 5 October to talk with Mandy Nolan about their show, their success, and to screen some new material. Jarrad, Izak and Tom went from doodling comics with textas and pens at school to creating the massive online sensation The Big Lez Show in just a couple of years.
Episodes of The Big Lez Show now receive between 500,000 and two million views and the channel has more than 350,000 loyal subscribers. The boys have been approached by Comedy Central, who commissioned a five-part API off series called The Mike Nolan Show.
Jarrad Wright, Izak Whear and Tom Hollis will be in conversation with local comedian Mandy Nolan at 6pm Wednesday 5 October at the Byron Bay Community Centre. Tickets $20 and on sale from Screenworks, www.screenworks.com.au. This event is co-presented by Screenworks and Screen NSW. Tickets $20 plus booking fee www.screenworks.com.au.
Recommended as an MA event owing to coarse language, drug references and violence.
Eight Days A Week
The Beatles: Eight Days A Week – The Touring Years is based on the first part of The Beatles' career (1962–1966) – the period in which they toured and captured the world's acclaim.
Ron Howard's film will explore how John Lennon, Paul McCartney, George Harrison and Ringo Starr came together to become this extraordinary phenomenon, The Beatles. It will explore their inner workings – how they made decisions, created their music and built their collective career together – all the while exploring The Beatles' extraordinary and unique musical gifts and their remarkable, complementary personalities.
The film will focus on the time from the early Beatles' journey in the days of The Cavern Club in Liverpool to their last concert at Candlestick Park in San Francisco in 1966.
Screening in Byron at the Piggery. Friday at 8pm, Saturday at 6pm and Sunday 4pm.