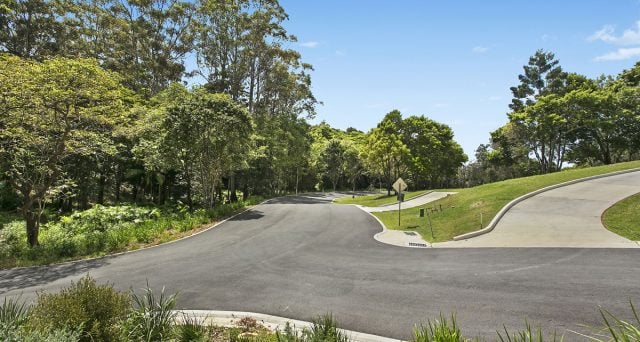 Developers of the Seacliffs estate, set in 'a pristine rainforest just minutes from the beach' behind Suffolk Park, say the first stage has sold out and they are embarking on developing the second and third.
Unison Projects' $20 million development boasts 34 elevated lots in the 16-hectare estate, including some with ocean views.
According to sales agents McGrath Byron Bay, three land-only packages are selling for around $600,000.
'Embracing 16 hectares, this prestigious estate is limited to only 34 homesites, leaving the remaining 13 hectares in its natural state,' the agency's PR maintains.
Unison Projects' Jonathan Levy said stage one of eight completed lots on Hayters Drive, Suffolk Park, has been sold while three house-and-land packages are due for completion early in 2017.
'Seacliffs has been a long time in the making as the project was initially held back by the global financial crisis (GFC) and then had to meet environmental approvals from Byron Shire Council,' Mr Levy said.
'But the response to the estate since it was launched has been tremendous and highlights the demand for residential land in Byron Bay.
Mr Levy said 75 per cent of the estate will be maintained as rainforest.
He added that he didn't expect the eight lots of stage two to stay on the market for very long, with four already sold.
Mr Levy said civil works on stage three of the development have been brought forward 'to meet the market demand'.