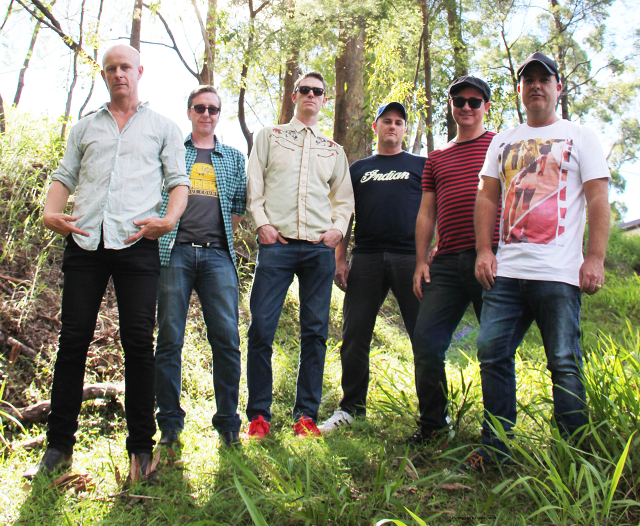 They started out as an urban funk band with the Sutherland brothers, Dean on bass and Michael on drums with their mate Warwick Scott on lead guitar. Back in Sydney in 92 they hooked up with the Larkin Bros, Aya on lead vocals and Del as the rapper, both hailing from a background in ska. After some down time on other projects, the band that has been hailed as forging its own brand of mongrel funk is back. Skunkhour are one of the headline acts for Mullum Music Festival. Seven caught up with Del Larkin, a one-time Shire resident, now back in Sydney town.
So what have you been up to since you left the Byron Shire?
My wife Pascale and I opened up a cafe/restaurant in Bondi, which was probably the best and worst decision we've ever made. I grew up around there and know the hospitality trade pretty well but we ended up almost having to decide between the biz or our marriage. Thankfully we chose marriage.
Why did you leave?
Basically to be back around family owing to some really shitty diseases and unfortunate luck.
What was the impetus to get 'the band back together'?  Is it one of those things that you do when you realise that once upon a time you had something pretty special, or did you guys always know that?
A bit of both really. When a band is a full-time biz, it's easy to lose sight of the original reasons you started and everyone can become a bit selfish and insecure.
Now we've re-formed we realise how lucky we were. We are also fortunate enough to have people out there who still love and respect us and that's all that matters really. We concentrate on the up sides now which is a healthy way to go about things.
When you released Up to our Necks in it were you? Is being a touring band with growing success a relentless ride at times?
No, not really. We wrote that track in a very easy and honest way. Warwick Scott the guitarist came in to rehearsals and said, 'I had a dream about a song and woke up with this guitar riff'. I'd had a poem I'd written as a hippy art student that had the same tone and feel to me as the riff. It all happened really quickly
What about your sound now that you've all matured; what is different about what you bring to the band?
Most who know us well say that we are a better band now because we have put all our egos aside and do it for the sheer fun and love. We all have jobs, kids and responsibilities so there is a more open and relaxed vibe onstage because we realise how lucky we are to get up onstage and communicate with people.
What do I bring to the band? They call me the big hippy (old school, not new, though).
Del, are you still bringing funk and rap to the fore?
Not sure how to answer that. The band will always be focused first on the power of a groove or riff and funk is always a major component. But we're not a strictly a funk groove band in my mind. We incorporate a lot of influences.
How do you and Aya manage the lead vocals roles – does sibling rivalry ever get in the way or has age taught you how to acquiesce?
Hell yes, sibling rivalry happens! There are two sets of brothers in the band so you can imagine how stupid that stuff can get. In the end it's like being in a team-sports environment where you have to put all your personal shit aside with each other and just do what's best for the team, or the song in this case.
Where do you draw inspiration from? Is it from people? Art? Music? Film? Food?
I wouldn't have a single clue how to answer that. Inspiration is everywhere.
What should we expect for your show at Mullum Music Festival? How much of the old Skunkhour and how much of the new?
The Mullum Fest gig is going to be awesome. Glen used to run the Harbourside Brasserie at the rocks and was one of the first guys to give us a real gig and real support. We have a lot of love for Glen. Also, Deano (our bass player) went to Mullum High with Pat Davern (Grinspoon). So put those two things together and we have all the vibes we need to tear the roof off the mother! Can't wait.
Skunkhour headline the 9th Mullum Music Festival, 17–20 November.
For tickets and program details go to mullummusicfestival.com.