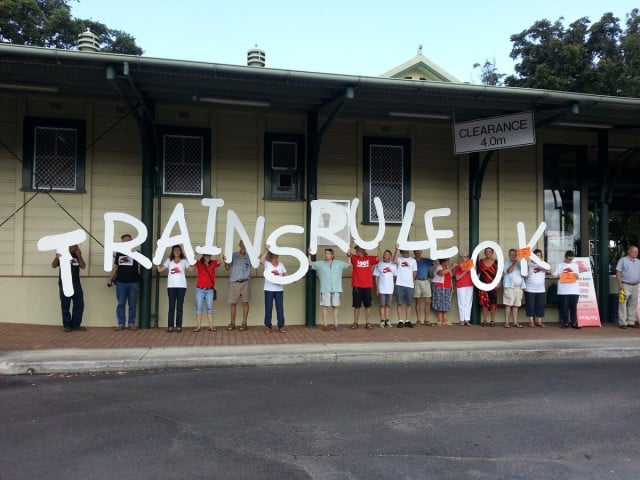 A northern rivers group lobbying to have the Casino to Murwillumbah railway line reopened has welcomed support from a number of candidates in the upcoming local government election.
The Northern Rivers Railway Action Group sent a letter to candidates asking for their position on the subject, and providing the with an evidence-based paper on the real cost and condition of the Casino to Murwillumbah railway line.
NRRAG spokesperson Beth Shelley said the group also pointed out that any rail trail legislation would remove protection of the rail corridor.
'What was surprising was that when we made phone calls to candidates some said they hadn't even read it,' Ms Shelley said.
'Some responded supporting the rail trail because they thought it would protect the corridor. NSW has legislation that protects railway lines more than any other state.'
The following responses were received.
Vanessa Ekins: "I support commuter train services from Casino and Lismore, because of the large number of car movements between Casino and Lismore, the good condition of the train tracks. I strongly support completing the rail links between Murwillumbah and Robina as most traffic is between NSW and QLD and this is the real opportunity to create a commuter train service."
Greg Bennett: "I believe that Lismore as a regional City should have a rail connection.  I would also be pleased to assist you in your efforts to reinstate the entire line with a connection to the Gold Coast rail network."
Isaac Smith: ""I support the reinstatement of a train line in the northern rivers as we need to connect with South East Queensland in the near future. I believe this line should run from Casino and utilise parts of the existing corridor but also take in Ballina to improve commuter transit along our busiest highway."
Neil Marks: "As you know I have always supported the return of some sort of train back on the tracks and the eventual completion of a line that would run through Ballina up the coast and into Queensland. Firstly the line route must be kept in public hands and maintained to some extent into the future."
Elly Bird: "I would support a rail service from Lismore to Casino to provide rail transport options from Lismore to Brisbane, and commuter services from Casino to Lismore, easing traffic pressure on the Bruxner Highway."
Jeff Johnson from Ballina, "I am a 100% supporter of a commuter rail service because the expected population growth will mean our congested roads will become grid lock during peak periods, those who don't have a car or can't afford one can afford a train ticket and our hinterland towns will benefit because the tourists of Byron will visit Lismore, Bangalow, Mullumbimby."
Steve Posselt from Ballina, 'I unequivocally support the return of rail services. I do not support converting rail lines to trail routes as per the rail trail proposals that would kill future use of trains. Extending the line to meet with the Gold Coast airport will happen I am sure. It is just a matter of when we will find enough people with the vision for it to occur."
Suzy Hudson from Tweed, "I agree how wonderful it would be to have the train reach Tweed, I think it would benefit the economy a great deal."
NRRAG spokesperson Beth Shelley said her group agreed with Steve Posselt that 'we need people with vision who are able to look into the future'.
'It is wonderful to find there are council candidates from different councils who realise the value of rail services and are happy to support the introduction of commuter rail services on the Casino to Murwillumbah railway line,' Ms Shelley said.
'Please vote for the candidates who've taken the time to listen to their community's needs.'