Fiesta website correction
Last week we published an interview with Sky Blue the director for the Byron Bay Latin Fiesta.
The website listed was not correct. The correct website for program and ticket information is: byronlatinfiesta.com.au.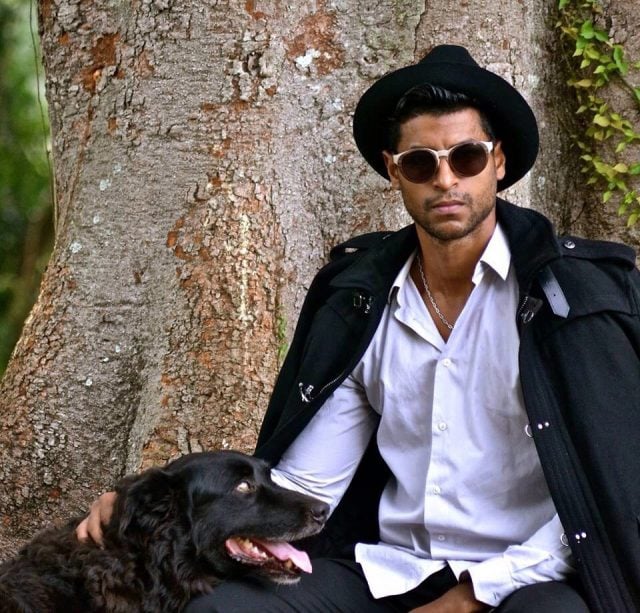 Gorgeous Borges
One of the treats in store at the Byron Latin Fiesta is performances and classes by some of the world's finest Latin dancers.
One such talent is Cruz Vazquez Borges, a professional dancer from Cuba who has undergone six years' training at the famous ENA Academy as well as two years at the world-famous Tropicana company.
He is trained in ballet, classical ballet, contemporary, jazz, Spanish, tap, salsa, rumba, son, acrobatics, hip-hop and Cuban folklore. Cruz speaks Spanish, English and Italian.
Cruz has toured the world with the famous Lady Salsa smash hit show, as well as performing in the famous Tropicana show and Ballet TV in Cuba. He has also been a backup singer and dancer for Salsa Orchestra Halia Maria Monpier in Cuba; and hip-hop and contemporary dancer in Company PMM in Cuba.
Byron Latin Fiesta 4–6 November in Byron (hub is the Byron Community Centre).
Go to byronlatinfiesta.com.au for tickets and program information.
In Your Element
Island Elements is a unique three-day lifestyle festival, featuring a balance of rejuvenating workshops, presentations, world-class musicians and entertainment, as well as a vibrant market village. Situated under the swaying trees at Adder Rock on spectacular North Stradbroke Island, Island Elements Festival is a place to reflect, for creative self-expression, and healing.
International facilitators include Angelina La Miette (US) teaching Vinyasa Flow and a fun all-ability session of Acro Yoga; Thailand-based Five Elements Dance teacher Daisy Kaye; international ecstatic dance facilitator Dakini fresh off her US tour.
Take a class by the Polynesian School of Arts, try shaking and stomping it all out in an Afrobeat dance class, or learn some techniques of Zenthai Shiatsu.
Headlining the music program is acclaimed French reggae artist Naaman, with his sharp beats, sweet melodies and positive lyrics. You can also catch the gypsy flamenco spirit of Felicity Lawless, the soaring vocals of Danny Ross, reggae vibes of north Queensland's Zennith and northern rivers visionary song smith Murray Kyle.
For the full program visit islandelementsfestival.com.
Boomerang Portraits
On Wednesday 9 November, Photo Fox Den in Lismore will come alive with imagery of Bundjalung Indigenous arts and culture festival: Boomerang. Hosted and curated by Ben Knight and Jo-Anne Driessens, as part of the Boomerang Presents series, designed to help raise awareness and funds for Boomerang's survival, some of the country's best photographers have united to present an incredible display of the best shots captured during Boomerang at Bluesfest in April 2016.
In collaboration with Ben and Jo, the generous photographers who have donated their works for this great community event are Natalie Grono, Tao Jones, Kirra Pendergast, Orlando Sydney, and Joseph Mayers.
In addition, Ben and Jo-Anne are taking portraits of some our local region's deadliest Indigenous people, all who do great work in their field and contribute positively to the community. These special portraits will also be on display at the event.
There will be a silent auction on launch night, with all proceeds going to Boomerang Festival. The launch night will also feature live music by Triple J Unearthed artist Pat Tierney, who is currently on a massive national tour, and guests can enjoy complimentary canapés, and drinks generously supplied by Yogi Beer, Byron Bay Wild Cider and Stone & Wood Brewery.
The exhibition will then run until 20 November, where set prices will be applied, and again all proceeds to Boomerang.
Photo Fox Den is one of the northern rivers' most exciting new art spaces – dedicated to showcasing photography in general, and specifically local talent. 6–8pm, $5 entry. All proceeds go to Boomerang Festival.
Exhibition runs 9–20 November. More information and tickets: www.boomerangfestival.com.au.
Festival of Love
The annual Taste of Love Festival is happening again in Byron Bay, 20–22 January 2017, and features an international, national and local lineup of presenters on the topics of awakening, love and consciousness. Building on the momentum of the hugely popular 2016 Taste of Love Festival, Byron locals Marion Ellyard and her team are set to create something extra special and unique for 2017. The 2017 program is online now. We invite you to visit our website and take advantage of our limited earlybird and locals tickets before they are sold out.
Taste of Love brings together elements appealing to all people who seek to fully understand health, happiness, mindfulness and fulfilment in their lives. Attracting a wide cross-section of presenters from around the world offering sessions exploring various aspects of love, relating, consciousness, sacredness, connection, sensuality, sexuality, yoga, meditation and a diverse range of associated topics, this festival is worth checking out.
Chant for Peace
Chant for Peace is an afternoon with Pralad & The Chants and friends enjoying enchanting harmonium kirtan by Ramananda, followed by an acoustic journey with Pralad & The Chants, intertwined with some mantra breathing. From there Gopali and The Tribe will take people on an uplifting freeform dance fest that leads to an awesome finale with amazing electric Mantra Dance. Chant for Peace at the Mullumbimby Civic Hall on Sunday 6 November.
Writing workshops
Learn how to write an opinion piece that is both funny and informed – and have a laugh in the process. Upcoming workshop In My Opinion is a chance to get one-on-one time with the fabulous Mandy Nolan, comedian, columnist and social provocateur. Or find the best way to tell your story with Life Writing, a full-day workshop with Alan Close. Everybody has a story to tell and here is the perfect opportunity, based around practical writing and constructive feedback. See below to secure your spot. Mandy Nolan's workshop is this Saturday and Alan Close's is Saturday 12 November.
Both workshops are at the Byron Community College in Gordon Street, Mullumbimby, and run 10am–4pm. To register, please call 0414 272 327, Monday to Friday 9am–5pm or contact via email [email protected].
Party Shirt for Mental Health
The Party Shirt People want the shirt off your back for mental health.
The Party Shirt People is a fundraising initiative, selling party shirts to raise much-needed funds for charities supporting mental health.
The concept involves three simple steps:
1.
You donate a party shirt (at the event or beforehand at one of the designated party shirt drop-off points).
2.
You buy a party shirt (at the event or afterwards at the online marketplace).
3.
The money raised will be used to support Livin, a charity seeking to breakdown the stigma surrounding mental health, and provide support and education within schools, sporting codes, universities, VETs, construction/mining and the corporate space.
The Party Shirt People has been established by three old friends from Byron Bay: Danny Salfield, Sam Clarke and Mark Purser. Each of these guys has been affected, either directly of indirectly, by mental health issues and the fallout of losing close friends to suicide. They wanted to make an effort to do something to support the charities in this area. A few conversations were had about what could be done; some ideas were tossed around, and Party Shirt People was born. Every party shirt donated puts you into the raffle to win a surfboard from Ed Sinnot, plus a whole lot of other giveaways.
There will be live music performances, food and drinks to be consumed, and a very merry time to be had by all.
Launching Saturday 5 November 2–5pm at Coco Republic, 33 Childe St, Belongil Beach.
Addams Family the musical
Following the success of their production of Cats last year, Bright Lights Performance School's senior musical yheatre students are back with The Addams Family – A New Musical.
In the kooky, upside-down world of the Addams Family, to be sad is to be happy, to feel pain is to feel joy, and death and suffering are the stuff of their dreams. Nonetheless, this quirky family still has to deal with many of the same challenges faced by any other family, and the spookiest nightmare faced by every family creates the focus of Lippa, Brickman and Elice's musical: the Addams kids are growing up. The Addamses have lived by their unique values for hundreds of years and Gomez and Morticia, the patriarch and matriarch of the clan, would be only too happy to continue living that way. Their dark, macabre, beloved daughter, Wednesday, however, is now an eighteen-year-old young woman who is ready for a life of her own. She has fallen in love with Lucas Beineke, a sweet, smart boy from a normal, respectable Ohio family – the most un-Addams-sounding person one could be! And to make matters worse, she has invited the Beinekes to their home for dinner. In one fateful, hilarious night, secrets are disclosed, relationships are tested, and the Addams family must face up to the one horrible thing they've managed to avoid for generations: change.
Directed by Rebecca Balfour and choreographed by Lee Purdie.
Sunday at 2pm and 6.30pm at the Byron Theatre.
Tix available online at www.byroncentre.com.au or by calling 6685 6807.
Shakespeare's Brilliant
Drill Hall Theatre's production of Twelfth Night has been declared a roaring success. Audiences were delighted by the choice of an all-female cast, which definitely added to the humour while bringing a strong sense of camaraderie to the stage, proving that the only theatrical mistake Mr Shakespeare ever made was not using female actors. The show also features the talents of young acrobats who amaze with their flexibility and enthusiasm. If you wanted to experience a rock'n'roll circus musical version of Shakespeare's romantic comedy then this is the show for you. Twelfth Night plays for the next two weekends until 6 November. Fridays and Saturdays at 7.30pm and Sundays at 2pm.
Tickets ($20 and $15) can be purchased from The Bookshop, Mullumbimby or online at www.drillhalltheatre.org.au.
Everything Burlesque
Don't miss out on Everything Burlesque, directed by Nina Jeftic! Two shows only – Friday 18 and Saturday 19 November. This is the most entertaining show on the planet! You won't be able to sit still or stop singing along to this show!
Dynamic, saucy, exotic and exhilarating pieces from Burlesque the movie, Fifty Shades of Grey and some Bob Fosse classics will keep you enthralled!
Mandy Nolan will MC the night. Not to be missed! Tickets available now for $38, adults, and $33 concession. Not recommended for children under 15 years.
Phone the Byron Theatre on 6685 6807 or buy online at www.byroncentre.com.au.
Best Little Whorehouse in Ballina
Go down the road out of Gilbert, Texas, and you will find the Chicken Ranch, a long-time local institution and the setting for much of The Best Little Whorehouse in Texas, Ballina Players' latest production. During the Depression when money was tight the girls began accepting poultry as payment for services. There were soon so many hens that the place got its new name – the Chicken Ranch. All over Texas even the young knew that something other than poultry was being sold there.
The story of the Chicken Ranch is a key part of the action and issues in the musical as its very existence is challenged by a newcomer to town. Things are pretty much as they have been for 58 years until Melvin P Thorpe, sensationalist TV crusader, sets out to spoil everyone's fun.
On the death of the first owner, Miss Wulla Jean, the Chicken Ranch passes to Miss Mona and she continues with old traditions. The rules have always been strict but fair, and girls and guests respect that.
Written by Larry L King and Peter Masterson, and directed by Paul Belsham, The Best Little Whorehouse in Texas will be staged at the Players Theatre from 18 November till 4 December, Thursdays to Saturdays 8pm, Sundays 2pm. Book online at www.ballinaplayers.com.au or at Windrose Travel, 6686 6566 (a booking fee applies).
Big Think with Garrett 
As the frontman of Midnight Oil, Peter Garrett provided a towering, electrifying intensity that spilled over into his subsequent political career. Join him in conversation as he explores his musical and environmental passions, from Midnight Oil through to his 2015 memoir Big Blue Sky.
The Oils were renowned for their fierce independent stance and active support of the rights of Aboriginal and Torres Strait Islander people and protection of the environment. The band's protest and benefit shows, most notably the anti-Exxon performance on the back of a truck in the streets of New York, and the 'Sorry suits' appearance at the closing of the 2000 Sydney Olympics, were hallmarks of a 13-album career leading to an ARIA Lifetime Achievement award in 2006.
Peter Garrett was appointed the youngest-ever president of the Australian Conservation Foundation (1989–96).
Peter entered federal parliament as the member for Kingsford Smith in 2004. In 2007 Labor won government and he was appointed minister for the environment, heritage and the arts.
A Member of the Order of Australia for contributions to the music industry and environment, and an Officer of the Order of Arts and Letters (France), in 2010 he received the Leaders for a Living Planet award from WWF Australia & International.
Married with three daughters, Peter Garrett has recently released a memoir Big Blue Sky and a debut solo album A Version of Now, and is touring nationally with his band the Alter Egos.
NORPA Big Think: Peter Garrett, In Conversation, Friday 18 November, 7pm. NORPA at Lismore City Hall.
Recommended for 15+. Adult concepts. Tickets $35, $25 under 25. Bookings and more info: www.norpa.org.au or 1300 066 772.
LGBT Youth Formal
The inaugural LGBT+ and friends Youth Fancy Formal will be held at the YAC in Byron Bay on Saturday 12 November, 6–10.30pm. This celebratory event has been made possible with a grant from the Mental Health Association of NSW (sponsored by ACON), a donation from community member, the legendary Stephen Allkins – king of the 80s DJ scene in Sydney, and a Small Change grant successfully gained by Raani Nichols, who is also a member of Byron Youth Theatre (BYT). Event coordinator Lisa Apostolides, who also directs BYT productions, explained: 'This event has evolved from requests by youth audiences after watching our production called No One Way, which toured schools earlier this year. Young people who identify as LGBTIAQ+ and their friends were eager for opportunities to socialise and celebrate with each other.'
Raani came up with the idea of holding a fancy formal and together with Lisa has have gained more support and connections to create the event. LGBT+ youth groups from Tweed and Lismore will also be attending. The evening commences at 6pm with mocktails and canapés being served by young people studying Hospitality and Event Management through TAFE at the YAC, followed by three short performances by BYT cast members of No One Way and a 15-minute open-mic session. The rest of the evening will see awesome DJs mixing it up for the young people attending.
Tickets can be purchased online at eventbrite.com.au/e/lgbt-and-friends-fancy-formal-tickets-28271625192 or on the door for $10. Food and non-alcoholic drinks can be purchased at concession prices.
Mad Hatter Madness
Bring your Cheshire grin along to our delightful garden for a Mad Hatter's tea party with a twist! That's right, Brunswick Picture House invites you to join them and their very own mad hatter for games and adventures, sweets and treats prior to the screening of this unmissable Disney classic, Alice In Wonderland.
Cupcakes and surprises start at 2pm followed by the film.
Alice in Wonderland film, Brunswick Picture House.
Hecho en México
In celebration of Dia de los Muertos (Mexico's public holiday, Day of the Dead), Brunswick Picture House presents Hecho en México (Made in Mexico), an inspiring road trip through modern-day Mexicanity. The film showcases the richness of Mexican music and artistry. Elders and youth come together to speak about their craft, their homeland and what it means to be Mexican. From poets and singers to actors and cultural leaders, Hecho en México is a musical celebration and journey into the inner circle of an extraordinarily rich and diverse culture.
Brunswick Picture House on Wednesday 2 November at 7pm.
Ethnic Art at Terrace Park
Ethnic Terrace day of free family fun at Terrace Park, Brunswick Heads. Drumming and dance workshops, performance and live music by Happy Africa. Drum circle with drums provided. All workshops and entertainment by donation.
Saturday 11.30am–5.30pm.