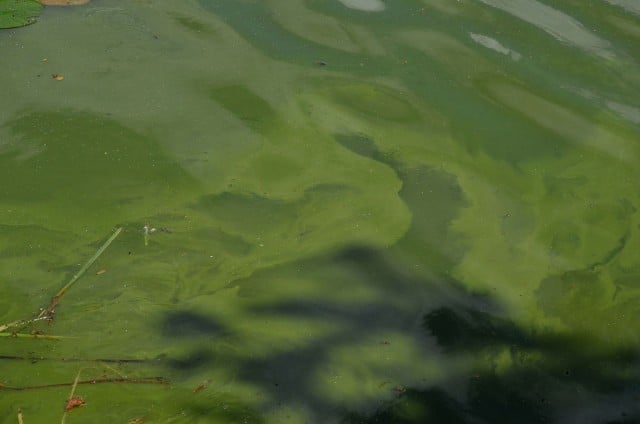 It's not known whether people have come into contact with a blue-green algal bloom at Suffolk Lake but the opposition has criticised the state government for its slow handling of a 'red alert' for the outbreak.
Blue-green algae was found at Byron Shire's Baywood Chase residential estate pond in Suffolk Park – also known as Suffolk Lake earlier this month.
But shadow north coast minister Walt Secord said he was disappointed that the algae alert was only brought to the community's attention after it was posted on a 'dark corner' of a NSW Government website by the North Coast Regional Algal Coordinating Committee.
On November 18, water NSW placed a note on its official website saying that a 'red alert' had been issued for Baywood Chase but the public had not been advised of the problem, unlike in almost every other case in the state.
Byron Shire Council has since posted signs.'
http://www.water.nsw.gov.au/water-management/water-quality/algal-information
Mr Secord said he understood that Byron Shire Council was monitoring the blue-green algal bloom and the community would be advised when conditions change.
But he criticised the Baird government for its lack of communication with the community on the red alert.
'I would have expected that the Baird government would have issued public alerts like they did in 2013 and 2015 when there were previous outbreaks,' Mr Secord said.
'The community has a right to know. The outbreak was lodged on November 18 – four days ago.'
Currently, there are eight red alerts in NSW.
A red level indicates that waters are unsuitable for recreational use or primary contact by water users and may also pose a threat to pets. As a rule, it is advisable for people to avoid all contact with the water.
Blue-green algae facts
Blue-green algae can cause skin rashes, asthma and eye and ear irritations if contacted and diarrhoea and other health problems if ingested.
Animals can become very sick as a result of drinking water affected by blue-green algae and there have been cases of animal deaths.  Dogs are particularly susceptible as they ingest algae by licking their coats.
People are advised not to enter the water, and are further advised not to drink untreated water or bathe in water drawn from the lake whilst a red level warning is in place. Boiling the water does not inactivate algal toxins.
There is some evidence that small quantities of algal toxins may enter fish flesh when a bloom produces toxins. Any fish caught in water affected by a bloom should be cleaned and washed thoroughly in uncontaminated water and any internal organs disposed of before consumption.