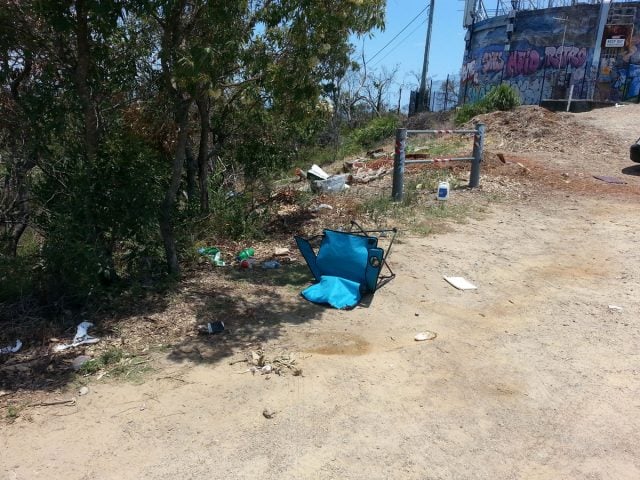 Chris Dobney
Mayor Simon Richardson has broken his silence over the deluge of complaints from residents about the bad behaviour of visitors to Byron Bay during New Year, saying that locals were also to blame for some of the bad behaviour.
In the early days of 2017, Echonetdaily published a range of letters from long-time residents, accusing tourists of trashing nature reserves, dumping rubbish on suburban streets and leaving a trail of excrement in the sand dunes.
At the time, Echonetdaily emailed Cr Richardson for a response but received only an automated reply saying he was on leave.
Returning to work on Friday, he acknowledged that 'being a shire of coastal holiday towns, as usual, the summer peak holidays in Byron Shire bring positives and negatives as we celebrate the end of the year.'
'This is… a positive for our economy and provides many jobs for us. Jobs that we need.
'However, yes, some of these visitors need to learn more respect,' Cr Richardson said.
But he added that locals, as well as tourists, were responsible for some of the offensive behaviour.
'Littering, illegal street camping, public urination and partying in environmentally sensitive areas cannot be tolerated and we all share a deep frustration. This type of behaviour is unacceptable.
'And yes, unfortunately some of the locals need to learn it too.'
Mayor Richardson said that 'the days of the quiet surfing town of Byron Bay' were over.
He urged the community to 'collectively embrace the challenges we are facing' adding that 'we need to keep striving to find a balance between amenity, protecting our environment and a vibrant place.'
'This requires a whole of community effort,' Cr Richardson said.
He added that some of the council initiatives that appeared to have had positive results included installing 'a lollipop team' to assist traffic flow and employing two extra rangers during the peak season
They would be increased next year 'if found to have been worthwhile,' he said.
'Council and staff will review the summer, as we do each year, and see where we can adapt and improve.
'Though it can be hard to stop everyone who wishes to do the wrong thing and overnight camping spots often change from year to year, we are committed to stand with the community to minimise it as much as possible ,' Cr Richardson said.
Illegal camping on the move
On the subject of illegal camping, council's sustainable environment and economy director, Shannon Burt, said council had 'not noted an increase over the previous year' but admitted that many campers were moving into areas council did not own or control to avoid prosecution.
'Whilst we have seen an increase in illegal camping in some areas such as Seven Mile Beach, overall it has been similar to the previous year,' Ms Burt said.
'Illegal camping is a moving problem and we are finding they are moving into different areas and increasingly onto land that council does not own or manage and therefore cannot enforce.
She said that the incidents of 'doof' parties on council-owned or managed land had actually decreased over the past 10 years but there has been a surge of such activities around sensitive areas such as Tallows 'which are the province of other authorities'.
Ms Burt said her staff would be talking in the coming week with concerned residents about what could be put in place at environmentally sensitive areas to help restrict access to revellers.
'We will work with concerned residents and community organisations to develop deterrents and active policing of our sensitive dunes and eco-systems,' she said.
3 tonnes of waste
Byron's infrastructure services director Phil Holloway said the waste collection from New Year's Eve was up by half a tonne on last year.
'We removed 3.1 tonnes on New Year's Day versus almost 2.6 tonnes in 2015, Mr Holloway said.
'Cleaning crews have reported that the Main Beach foreshore had improved from the past year and less litter had been collected from this area.
'Additional bins in this area have had a positive impact,' he added.
During December, the volume of landfill waste collected from the public bin network was significantly less, down 46 tonnes or 30 per cent, on the previous year.
Mr Holloway said this was due to the installation of new recycling foreshore bins being well used by residents and visitors.
During summer, from the arrival of 'schoolies' to the end of the summer holidays, Council also has had a dedicated collection crew working over the weekends to assist with the additional waste needs.
Extra collections
Mr Holloway said his resource recovery team would also be 'investigating the need for additional urban waste and recycling services for two weeks over the 2017 peak Christmas/New Year period.'
'This additional service would potentially help deal with the increased waste and prevent the dumping of household waste into public bins which often causes overflows,' he said.