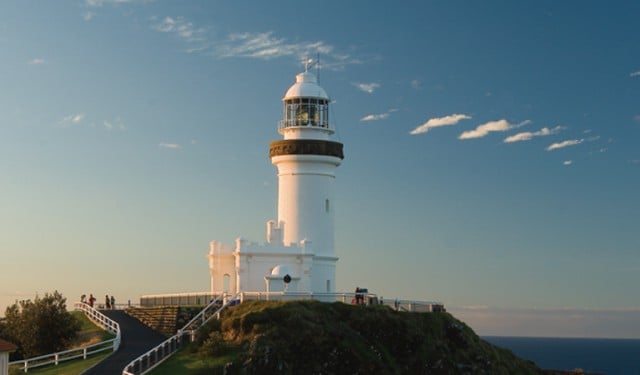 Imagine being able to park your car and catch a solar-powered electric shuttle bus up to the lighthouse at Byron Bay.
The concept is just one proposal raised in the Cape Byron Visitor Master Plan, which has gone on public display until 27 March.
The proposed plan has been developed by the National Parks and Wildlife Service and the Cape Byron Trust as a way to improve visitor experiences at Cape Byron while protecting the natural environment.
Electric shuttles would alleviate the congestion caused from more than 2,700 car trips to and from the lighthouse each day.
Chair of the Cape Byron Trust, Delta Kay said culture and nature conservation were at the forefront of the plan and people were invited to submit their feedback.
'The area is home to the heritage listed Cape Byron Lighthouse, one of the most highly visited locations in regional NSW with 1.5 million visitors annually and more than 2800 visitors walking to it daily,' Ms Kay said.
'This iconic location is an important recreation area for the local community and visitors, and is a place of spiritual and cultural significance to the Bundjalung of Byron Bay (Arakwal) people,' she said.
NPWS jointly manages the area with the Arakwal people as members of the Cape Byron Trust and the master plan is required to provide a clear vision to address future challenges and opportunities that tourism presents the Byron community.
'From the heritage Lighthouse to the endangered ecological communities, this master plan will ensure our unique location is preserved and maintains its close connection with the community,' Ms Kay said.
'Due to limited parking availability, solar powered electric shuttle buses are being proposed to alleviate the congestion from the 2700 or so unnecessary car trips made daily to and from the lighthouse.
'To remove conflicts between walkers and cars, plans also include the completion of the Wategos Beach footpath and the extension of the walking track beyond the boardwalk on Lighthouse Road and the Tallow Ridge walking track link to Tallow Beach Road.
'Improved walking tracks and lookouts at Little Wategos and the Most Easterly Point of Mainland Australia are important to protect the endangered ecological grassland communities, and to provide for joggers and people enjoying the views and wildlife.
'Continuing community engagement is essential in order to maintain a haven that allows visitors to experience the unique culture and heritage of Cape Byron through education, outstanding natural spaces and engaging experiences'.
The Cape Byron Preliminary Visitor Masterplan will be on public exhibition from 13 February 2017 and the deadline for submissions is 27 March 2017.
Feedback can be submitted via an online form, by emailing [email protected] or by mail to Cape Byron Trust – Cape Byron Masterplan: PO BOX 127, Byron Bay NSW 2481.