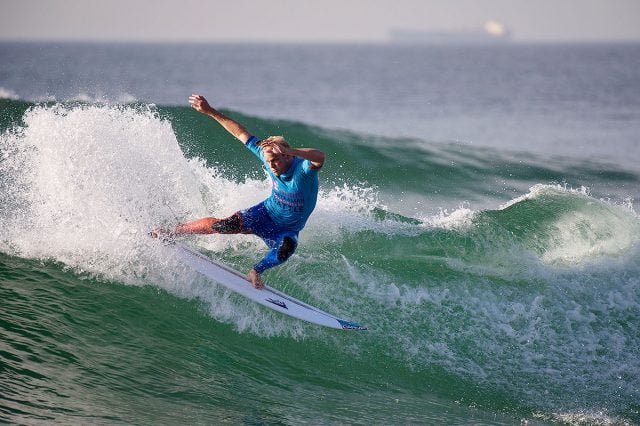 By Crystal Cylinders
Local pro surfers have been busy with a heap of events along the east coast of Australia for the start of the WSL year.
All the pro surfers in the world will attend hoping for a successful start to 2017.
The first event of the Championship Tour is the Quiksilver Pro that will be held at the Gold Coast over March 14–25.
It will feature Lennox Head surfer Stu Kennedy, who qualified in 20th position for his second year on the Dream Tour after his injury wildcard spot at the start of 2016. 
Byron Bay's Soli Bailey has already had an amazing start with his win at Pipeline, but while the status of the event will mean this was a very special win for Bailey he's focused on his goal of qualifying for the Dream Tour this year, he said.
'The Volcom Pipe Pro is definitely an event that I'll never forget, but it's only 3,000 points,' said Soli. 'I feel like that is still a bare minimum result to hold on to if you want to qualify. So I'm just trying to keep my head clear and focused on competing smartly. It's a long year, so I'm not getting ahead of myself. But it's definitely a good way to kick off the season.'
Soli is currently ranked ninth on the WSL QS ratings.
Lennox Head's Stephanie Single is 29th on the WQS. 
Local juniors Mikey McDonagh from Lennox Head and Kyuss King from Byron Bay are first and eighth respectively on the JQS ratings.
---
All Girl Surfriders hit the water for 2017
The All Girls Surfriders club based in Lennox Head held their first round for the year in late February in half to one metre swell.
'It's rare that the February surf turns it on for this round. Luckily enough, we scored some decent waves, and it's safe to say everyone has been practising – the girls ripped,' club spokeswoman Ebony Santamaria said.
'A big, warm welcome to all of our new members who did so well in challenging conditions,' she said.
Club round results
Junior Beginners: 1  Mahia Adams, 2 Jemima Moore, 3 Lucia Mitchell, 4  Toria Tyson, 5 China Esson
Junior Intermediate: 1 Chloe Mason
Senior Beginners: 1 Nardeen Fry, 2 Emma Fisher, 3 Milica Music, 4 Dannielle Thompson
Senior Intermediate: 1 Danah Besson, 2 Peta Warburton, 3 Cory Whitney, 4 Angela Allen
Longboard: 1 Maz Pentecost, 2 Margreet Weigers, 3 Marika Ilic, 4 Joke De-Jong
Opens: 1 Pauline Menczer, 2 Jenny Boggis, 3 Sophie Shelton, 4 Nyxie Ryan