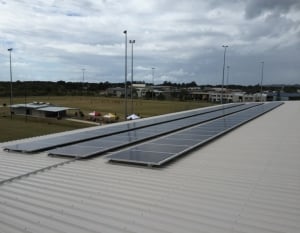 Chris Dobney
Many NSW residents who have solar panels on their rooftops are being paid less than half of their Victorian counterparts following a recent ruling by the Victorian Essential Services Commission (ESC) that set a new, higher price in that state.
Tamara Smith, Ballina MP and NSW Greens renewable energy spokesperson, is now calling on the NSW government to pay 'a fair price' to households that generate solar electricity.
Following the ruling, Victorian solar households earn 11.3 cents per kWh compared to 4.7 to 6.1 cents per kWh for NSW solar households.
And the CEO of local community energy company Enova agrees with Ms Smith, saying his company is already paying above the Victorian minimum.
'The Greens are calling on the NSW government to stop ripping off solar households in our state and pay them a fair price for the clean electricity they generate,' Ms Smith said.
The ESC increased the tariff to recognise the benefit solar power provides in terms of climate change, network benefits, and environmental benefits.
32,812 northern rivers households
'Some 32,812 households in the northern rivers region have decided to support clean, renewable energy by installing solar panels. They should be given a fair price that recognises the benefits of the clean energy they produce,' Ms Smith said.
'NSW is not only falling further behind Victoria in energy and climate policy but also in the amounts being paid to households. '
'The Greens believe new energy minister, Don Harwin should amend the terms of reference for setting solar tariff benchmarks to replicate those used in Victoria,' she said.
Enova pays 12 cents
Enova Community Energy CEO Steve Harris told Echonetdaily the company agrees with Ms Smith's analysis and his company is already offering double to triple that of other NSW retailers.
Mr Harris said the 4-6 cent prices that NSW retailers are currently offering are 'deplorable'.
'They're making quite a bit of money out of that. We offer 12 cents because we think that's closer to what the price should be – and in Victoria they've come up with 11.3 cents so we're not far off the mark,' he said.
'We think that anything much less than what we're offering is taking advantage of customers.
Mr Harris said that the higher tariff 'is making customers think about putting more solar on their roof because it just makes that business case stack up better.'
He added that Enova's 10-cent feed-in tariff for businesses was also having a local impact.
'There are lots of warehouses with unused roof space in both Mullumbimby and here in Byron Bay that could benefit from it,' he said.
Price rise imminent
Mr Harris also predicted that with price hikes of up to 20 per cent for power in the pipeline over the coming months, battery storage could start to become competitive within the year.
'Six months ago I would've said it was two-to-three years away but [that could change] with the wholesale price having doubled over the last three or four months, which will be passed through to consumers in July.
'And I'm predicting that price increase could be 20 per cent.
'That headline number will cause people to think "wow, 20 per cent this year, it could be 20 per cent next year, we're back on that price rise march. May as well do it now and get it out of the way",' he said.
Mr Harris did warn, however, that it would take more than one 20 per cent rise to make battery storage financially viable for most domestic consumers.
Greens bill
Ms Smith said that if the government fails to respond to her demands to pay a fair price to domestic solar generators, the Greens will introduce a bill to have price determinations factor in 'an implicit carbon price, network benefits, environmental benefits and health benefits of solar energy.'
Chris Dobney is a shareholder of Enova Community Energy Ltd.