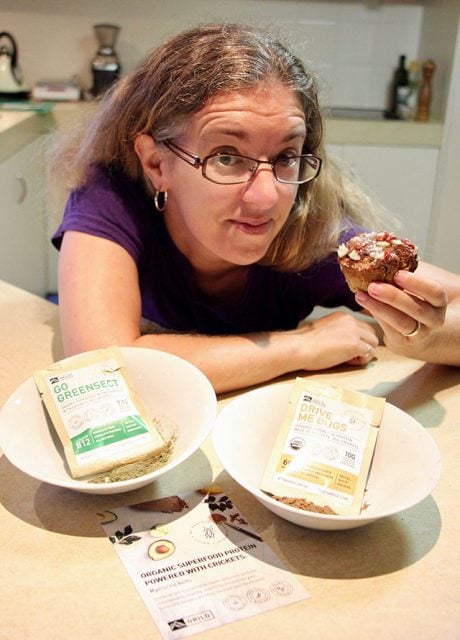 By Vivienne Pearson
The delicious looking cupcake in front of me would have been eaten ages ago, had I not known its full ingredient list. Instead, I hesitate while a battle of logic versus instinct wages in my brain. It's neither the buckwheat flour nor the maple syrup that have caused me to pause; it's the crickets that make me hesitate.
Yes, crickets.
There are no legs or antennae sticking out of the cake. The crickets are powdered. Farmed for three months, lured into hibernation by lowered temperatures, frozen (at which point they die), then washed, baked and ground. But, however finely ground they are, there is no getting round the fact that there are crickets in my cake. Insects. Crunchy in their natural state. I don't eat insects, unless you count the odd fly during a bushwalk.
I have contemplated crickets as a food source before – but it doesn't really help me in my cake-eating mission – as they were a food source for my pet frogs.
I am not a frog and, as I might have mentioned, I don't eat insects. But, truth is that there is only around three grams of powdered cricket in the cake staring up at me. I reason that such a small amount is not going to be noticeable and I am right. I enjoy my delicious cake.
This initial hurdle over, I move onto the actual powder. It's worth being clear that no-one is expected to eat the cricket powder neat. The idea is to include it in smoothies and baked dishes, or sprinkled over granola or a salad.
In the name of thorough research, I will not stop until I've tried the powder in its pure form.
'People say it tastes like almond, or popcorn,' says Pedro. I try it and disagree with him. I find the smell earthy and the taste like a stale spice-mix. These are not sensations I would seek out, but are far less disagreeable than I had feared.
The big question is, why? Why, apart from giving yourself psychological challenge (or being on Survivor), would you choose to eat insects? The answers are surprisingly plentiful.
Eating insects, a normal part of life in some parts of Asia and Africa, is potentially part of the solution to many of the world's problems. Crickets can be farmed in incredibly low-impact ways compared to other animals. [I can attest to the fact that they eat hardly anything (a fresh piece of carrot daily sustained them nicely until they were fed to my frogs).
You eat every part of them (like nose-to-tail eating but let's get technical and call it antennae-to-ovipositor eating). They are a rich source of protein – 15g of powdered cricket yields 10g of protein (about the same as an egg) – and are high in Vitamin B12.
A vegetarian who restricted their diet to avoid the environmental impact of farming meat might consider adding crickets to their diet. Maybe, as well as pescatarians and lacto-ovo-vegetarians, we'll one day have insectarians?
Pedro has used himself as a tester. 'I eat a diet that is pretty much plant-based plus crickets,' he says. 'Because I train a lot – jiu-jitsu, strength training and surfing – I eat more than 50g of crickets a day. A year on, I feel great.'
Pedro is one quarter of Grilo (which means cricket in Portuguese), all of whom hail from Brazil and live in Suffolk Park. They have created two products additional to the 'neat' cricket powder – Go Greensect (crickets plus spirulina, chlorella, turmeric and other) and Cacao Hopper (crickets plus cacao – ideal for bliss-balls, according to Pedro). They also make energy bars and have a growing number of cricket-based recipes on their website for you to try at home.
I have now eaten crickets. Would you?
[* More than 900 species, I later learn. The one I have just eaten is Gyllodes sigilatus.]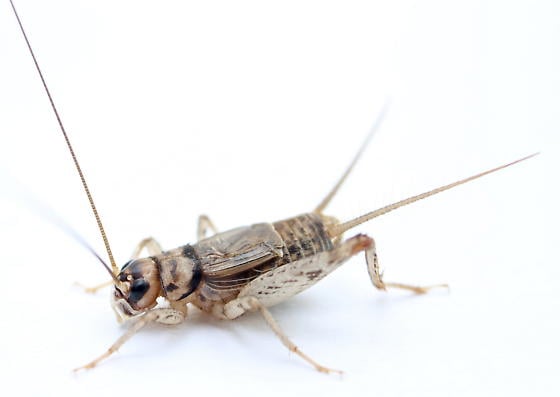 Grilo is at www.griloprotein.com.au and local stockists include Baz & Shaz, Fundies, Herbal Wisdom, Bangalow Gym and Cross Fit Byron Bay.