Chris Dobney
Lismore mayor Isaac Smith has one four letter word that he wants to tell prime minister Malcolm Turnbull, who is visiting the city this morning: 'HELP'.
Both the PM and NSW premier Gladys Berejiklian are touring flood affected areas of the northern rivers today.
Cr Smith said neither he nor Lismore City Council had received any official notice of the flying visits.
'As you can imagine, with these sorts of events, they come in a flurry and leave in a flurry,' he told Echonetdaily this morning.
'I guess my main aim is to pin them down when they get here about supporting our community,' he added.
Disaster relief
'I know there are disaster relief schemes at both state and federal levels that they will be talking about but I believe we have exceptional circumstances here and, much like has happened with other extreme events across the country, I hope they can come to the party and support our local businesses and residents.'
The mayor said that while calling in the Army to help with the clean-up 'could be an option' that 'one thing we do have is an army of volunteers coming in through the Lismore Helping Hands project, which has just ramped up today. There are more than 5,000 people willing to help.'
'But if it gets bigger, and we feel there's more to be done, that may be a key argument for bringing in extra support from the federal government,' he said.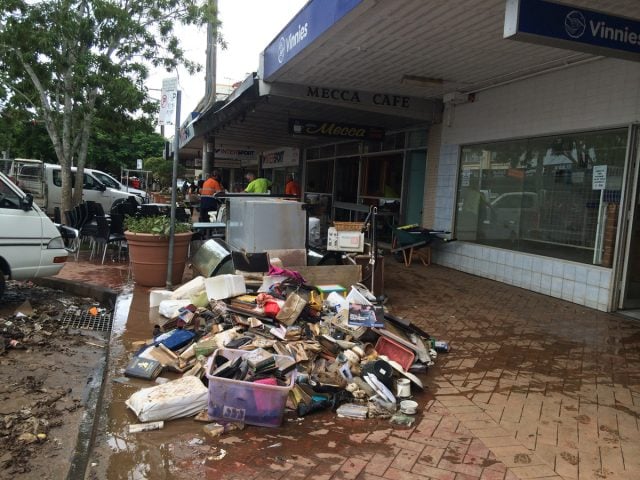 Business hit hard
The mayor said half of the businesses in the CBD had been rendered all but inoperable by the floods.
'Some had the chance to protect and lift a lot of gear up but at least half of the businesses didn't have a chance to do anything so they're the ones we're really going to focus on.
'We want to make sure everyone opens up and starts selling again as soon as they can.'
He added the sudden change in the predicted river level rises left many businesses feeling confident the levee wouldn't be topped until it was too late to do anything.
'The reports came through for moderate flooding early on Friday morning, which turned into a major over-topping earlier on the Thursday night. So it did change very quickly and caught a lot of people out. I don't know the processes around how and why that happened but that's something we'll investigate over the coming weeks,' he said.
Levee rumours
Cr Smith said persistent Facebook rumours that the levee had cracked were just that but he acknowledge some rubber seams between sections of the levee had leaked.
'I spoke with the SES person who saw the leak occur. They said it wasn't a crack it was just a small gap in a seam.
'So as far as we know, the levee is structurally intact but given the size of the event there may be some small seams that have popped and water has come through those rubber seams. That's certainly something we will need to fix in coming weeks.
Words for PM, premier
The mayor said he would today be asking the premier and prime minister to 'help us' on behalf of the people of Lismore.
He also implored residents to 'continue to support each other. Continue to be there for your neighbour and the shop beside you.'
'This is something we've dealt with before and it's likely to happen again in the future so we need to build our resilience up and keep working to make sure we accomplish everything and recover our city in the coming weeks,' Cr Smith said.