Story and photos by Vivienne Pearson
When your editor lets you know of a new eatery that transformed his wife from decidedly frazzled to cheerful after a single drink, I know it's worth checking out.
Open since January, Elixiba's name is a play on 'elixir' combined with 'bar'. Ideal, given that all their drinks, including alcoholic ones, contain herbs. Even their beers, specially brewed at the Pickled Pig Brewery in Tweed, contain special ingredients like turmeric, ginger, citrus, nettle or damiana.
Vodkas, liqueurs and plant-based cocktails are also infused with herbs and botanicals. Non-alcoholic herbal elixirs are all presented just as beautifully as the cocktails. 'It's nice for people who don't drink alcohol to have a drink that looks beautiful and makes you feel uplifted and yummy!' says Grace Hosken, Elixiba's general manager.
Food is just as important at Elixiba, which is a plant-based restaurant. 'Some people think they will leave a plant-based restaurant hungry, but everyone finds our meals filling and wholesome,' says Grace.
The breakfast menu is certainly full of substantial dishes: a Buckwheat Crepe that is topped with a chickpea feta smash along with asparagus, beans and kale; and a Cauliflower 'Scrambled Eggs'. 'It's my favourite breakfast ever!' Grace declares.
One menu covers lunch and dinner. The entrees are more delicate – like coconut 'calamari' and tea-smoked mushrooms. The main meals are back to substantial – super salads, macro bowls and burgers. Burger patties are made from a mix of shitake mushroom, chickpeas and other secret ingredients. The bun is paleo bread.
Everything at Elixiba is gluten free (apart from some of the beers) and those with allergies are likely to be able to eat with ease, given the absence of dairy products and an avoidance of allergy-provoking nuts. (Do check in with staff before ordering if you have an allergy though.)
Almost everything is made from scratch on the premises, including burger patties and paleo bread, herb tinctures, vodka infusions, chai syrups and herbal tea blends.
The interior of Elixiba is as unique as the food and drink offered. Whimsical wooden tables and chairs, hand-carved from camphor laurel, purple cushions and plenty of plants make for a magical place to eat. Small groups will love to tuck in to one of the nook-style booths. Easily overlooked, but fascinating once you notice, is a wooden carved topographical map of the region that forms the front of the bar, complete with a crystal atop Wollumbin Mount Warning.
Elixiba's aim is to bring herbs into people's lives. It certainly brings them, in creative, delicious and unique ways, to their food and drink. I hope a visit brings you as much happiness as my editor's wife!
Elixiba: Shop 10, Feros Arcade (23 Jonson St), Byron Bay. Open 7 days, 9am–3pm then 5pm–late. Facebook: @Elixiba-Byron-Bay Phone: 6685 6845. Try the Wednesday $20 burger and beer/kombucha offer.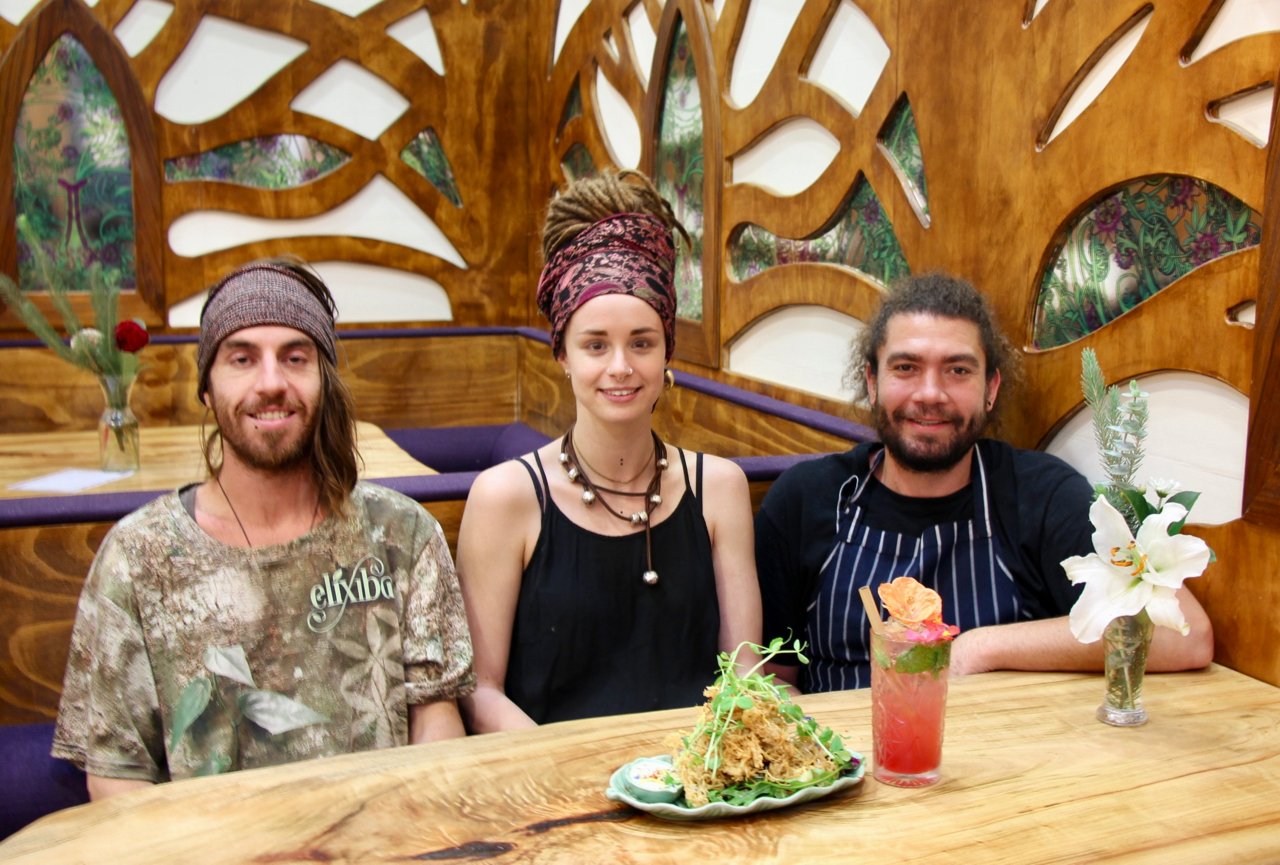 Tom Mossop (bar manager), Grace Hosken (general manager) and Even Seaward (sous chef)
TOP right – Happiness Elixir
MIDDLE – Macro Bowl – photo supplied
BOTTOM RIGHT – Elixiba Interior