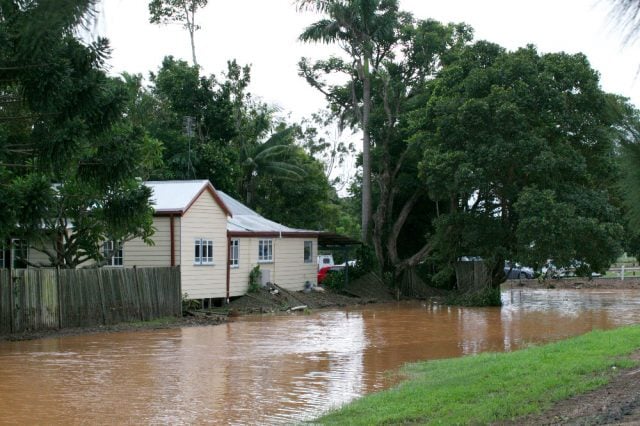 Trying to get back on their feet following the recent devastation of Cyclone Debbie, residents and businesses of Burringbar, Stokers Siding, Mooball and Crabbes Creek are being encouraged to come to the meeting being held by the Burringbar Community Association on Tuesday May 9  at 7pm. The meeting will be held at the Burringbar District Sports Club, Fourth Avenue, Burringbar.
'Many people in Hunter Street, Dignan Street and the surrounding streets, plus the Tweed Valley Way have lost most if not all of their possessions,' said local business owner Eva Heath.
'Some of the residents of Upper Burringbar have also lost so much due to landslides and lack of services plus some of the farmers have lost fencing, pumps, machinery and more.'
With so much focus on Murwillumbah and Lismore, many of the smaller – but equally devastated – communities feel that they have been overlooked.
'On Saturday afternoon there were two Red Cross ladies visiting the area and they were surprised at the devastation and stories they heard. Their comment was they will definitely have to come back, there are many people who need support,' continued Eva.
The flood survey that has been collecting data on flood affected communities and businesses across the north coast has now closed.
'The results will be very inconclusive,' continued Eva.
'There are many areas of flood affected people who still have not got access to the internet or even phone services, consequently they do not know, or have had no way submitting this survey.'
With a life lost, houses having shifted off their foundations and landslides, to name a few of the affects of ex-cyclone Debbie, the residents and businesses are now looking to come together to ask for help and look at ways they can work together to get their community back on its feet.
'Burringbar, Stokers Siding, Mooball, and Crabbes Creek all seem to have been forgotten, with no mention of inclusion in the Category C funding,' said Eva.
The North Coast NSW Floods Recovery Committee have confirmed exclusively to The Echo that they are looking at having a member of their team attend the meeting to provide information to the local community. They are also going to reach out to the small business survey coordinators who have been coordinating the flood survey to see how further information can be gathered regarding the effects of the flooding on these communities.
The meeting will also be receiving a presentation from Mat Morris of the North Byron Parklands regarding possible funding for a local playground.
Fundraising
If you would like to support the community with a donation they have also started a Go Fund Me page to raise money to help or their community to start moving forward.
Update
The Echo can confirm that Flood Recovery Coordinator Euan Ferguson or a senior member of the flood recovery team will attend the Burringbar community meeting on 9 May.
'I have been attending various community meetings across the Northern Rivers region,' said Ferguson.
'I am very keen to hear directly from all impacted communities.'