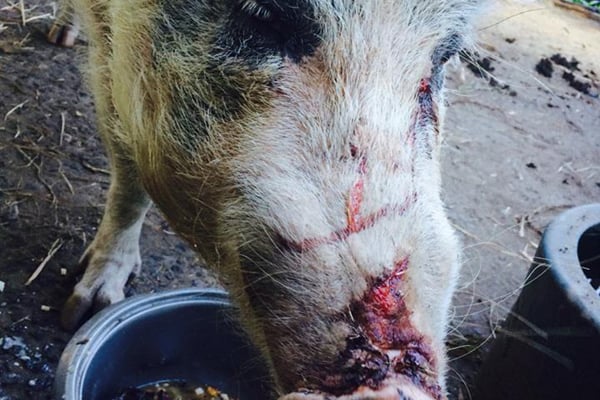 Rodney Stevens
Bail has again been refused for two men following a violent rampage at Nimbin's Djanbung Gardens permaculture farm last December, even though an initial charge of bestiality has been dropped.
The men still stand charged with beating and torturing 'Polly' the pig and killing 10 heritage chickens.
Reece Parke appeared in person at Lismore Local Court on Tuesday and was represented by solicitor Tracey Randall.
His co-accused, Bradley Presbury did not appear in person but was represented by solicitor Tom Ivey.
Parke, 22, and Presbury, 20, both initially faced two counts of torturing, beating and causing the death of an animal and one count of bestiality.
It is alleged the pair went to Djanbung Gardens, on Cecil St, on the night of December 13, and inflicted the brutality and torture on 10 heritage chickens and 12 year-old Polly the pig.
The destruction from their violent rampage was found at 7.30am the following morning by workers who noticed the chickens with broken necks and other broken bones.
Then they found Polly's snout had allegedly been slashed and she was suffering internal injuries.
The men were arrested at Teven on December 22 and taken to Lismore police station where they were charged and refused bail.
At their appearance in court on April 4, the charge of bestiality was withdrawn by the Director of Public Prosecutions.
It is anticipated the reason for withdrawing the bestiality charge will be mentioned in future court appearances.
On Tuesday solicitors for both men applied for their bail.
Ms Randall said Mr Parke should be granted bail as he had made no admissions about the allegations, any evidence from Mr Presbury against Mr Parke would be inadmissible and there was no forensic evidence of the alleged offences.
In opposing Mr Parke's bail application, prosecutor Sergeant Brett Gradisnik said both the alleged facts and his prior criminal record didn't assist him.
'(His) prior record gives no hope,' Magistrate David Heilpern wrote on the bail application.
In Mr Presbury's bail application, Mr Ivey cited the same reasons as Ms Randall.
In refusing both men bail, Mr Heilpern noted their criminal histories and the risk of them committing serious offences while on bail.
Both men will next appear in person at Lismore Local Court on August 30 for hearing.