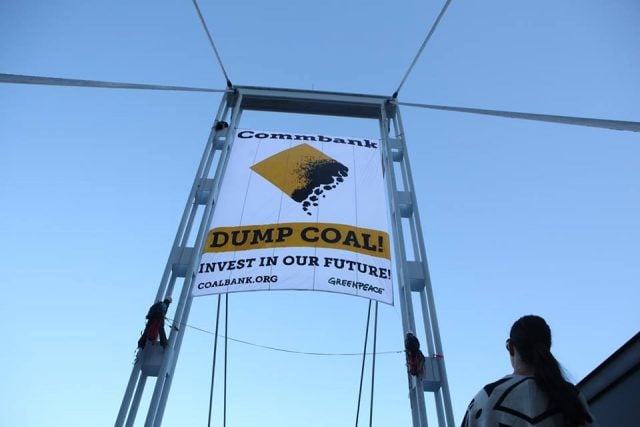 The Lismore City Council is being urged to write to the Commonwealth Bank urging it to not invest in the proposed Adani coal mine.
Cr Eddie Lloyd has lodged a notice of motion for tonight's council meeting urging fellow councillors to call on the Commonwealth Bank to adopt a similar policy to Westpac Bank's Climate Change Action Plan, which will see Westpac to cease investing in new coal and unconventional gas projects;
She also wants the Commonwealth Bank to specifically rule out funding the proposed Adani Carmichael Coalmine and railway line.
If successful, she wants the council to write to Page MP Kevin Hogan advising him of the letter to the Commonwealth Bank and stating LCC's dissatisfaction with any bank or government funding of the proposed Adani Carmichael Coalmine.
'The Commonwealth Bank has agreed to be the banker for the Adani Group's Carmichael coal mine. The Commonwealth Bank has not ruled out funding the project,' Cr Lloyd said in her motion.
'The Carmichael mine would become the largest coal mine in Australia, furthering a legacy of devastating greenhouse gas pollution and contributing irrevocably to global warming at a precarious tipping point for our planet's future.
'Westpac listened to the community and has publicly refused to fund the Adani Carmichael Coalmine.
'Westpac has, in line with its Corporate Social Responsibility obligations developed and delivered a climate change policy which recognises that climate change is an economic issue as well as an environmental issue, and that banks have an important role to play in assisting the Australian economy to transition to a net zero emissions economy.
'The Commonwealth Bank should follow their leadership and do the same.
Cr Lloyd said the Lismore City Council has a strong commitment to a renewable and fossil free future, and is a leader in renewable energy initiatives.
'LCC should show leadership to other councils in encouraging the Commonwealth bank to rule out funding the coalmine and to develop a climate change policy aimed at ending the funding of new coal mines and unconventional gas projects which are significant contributors to greenhouse gas pollution,' she said.