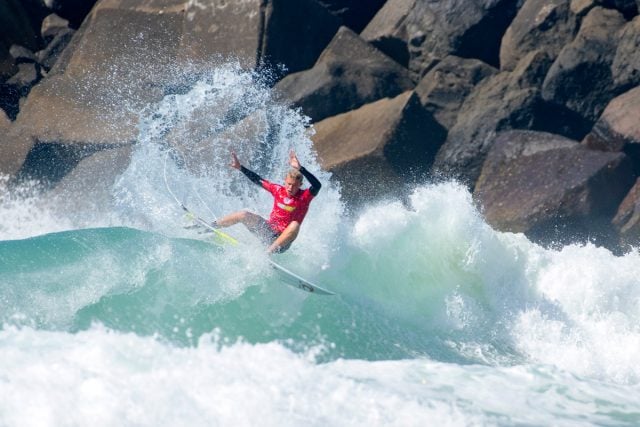 Crystal Cylinders
Lennox Head surfer Mikey McDonagh opened with a win at Bells Beach to set up a stellar season in 2017 and will be hoping to hold this form into the World Junior Championships.
His win at Bells helped him on his way to finishing second in the eight-event World Surf League (WSL) Australia / Oceania Junior Qualifying Series.
The WSL JQS is the first stepping-stone put in place to develop the next crop of elite competitive surfers.
It gives 18-and-under surfers a platform to not only develop their skills and taste international competition but to enjoy travelling to surf events and make friends from all corners of the globe.
McDonagh, a 15-year-old powerful natural-footer, will now head to the WJC in Kiama in January for the first time, after qualifying with his top-two finish.
'It was an intense couple of months competing among one of the craziest talent pools. It was always a challenge coming into every single event, which made for a great series,' McDonagh said.
'Finishing second is amazing and I can't wait to compete against an international field. I will do my best to keep the title in Australia.'
Results: All Girls Surfriders
All Girls Surfriders Club round results held at Lennox Beach in tricky one-metre waves were:
Junior Beginners: Mahia Adams, Amelia Cook,  Cinnamon Laddin,  Lucia Mitchell, Jemima Moore.
Senior Beginners: Tied 1st – Emma Fisher and Milica Music.
Senior Intermediate: Deb Gordon, Cory Whitney,  Sam Endell, Melissa Wright.
Opens: Nyxie Ryan, Mel Mott, Sophie Shelton, Lily Cox, Ebony Santamaria,  Jane Collins.
Longboards: Maz Pentecost, Marg Bryant, Jen Hellier, Georgia Laddin.