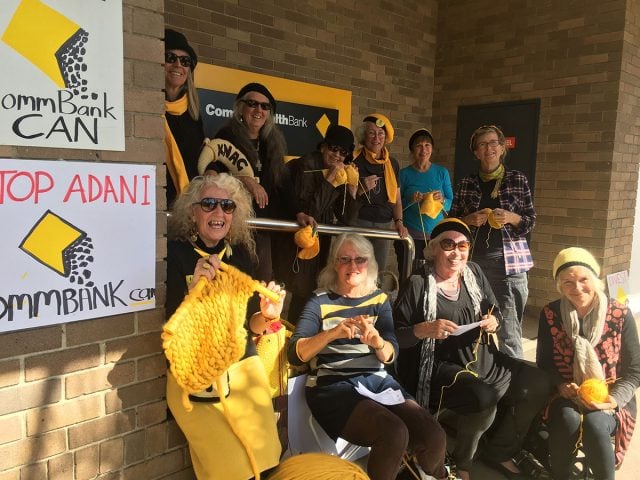 Protestors were once again brightening up the streets of Mullumbimby on Friday (June 2) as they gathered outside the Commonwealth Bank (CBA). The Knitting Nannas were keeping up the pressure on the bank to cut all ties with the Adani coal mine as part of a country wide protest against the coal mine proposed in the Galilee Basin in central Queensland.
'It recently came to light that it was a CBA transaction that transferred $1.6 million from Adani to the Dept of Resources QLD in payment for a Water Licence . Also that the wages and payroll are through CBA for Adani Australia,' saidKnitting Nanna, Rosie Lee.
'This is notwithstanding previous public statements by the commonwealth bank that they would not fund Adani. We are calling on the CBA to take an unequivocal stance to protect Australias best interests in the face of undeniable climate change. All responsible global financial institutions risk assessment addresses climate change and lack of social licence as unacceptable risk factors for new coal mines.'
A spokesperson responded to The Echo that the Commonwealth Bank is 'aware of the recent protests at its Mullumbimby branch. We believe people have the right to express their views as long as they do so in a peaceful manner in compliance with the law and common standards of courtesy.'
'As a major bank we support nearly every sector in the economy. Strict environmental, social and governance standards are incorporated into our business-lending decisions and we will only fund projects that meet these standards.'
The Knitting Nannas highlighted the fact that the pollution and depletion of Great Artesian Basin and the destruction of the Great Barrier Reef are not all that is at stake.
'An estimated 70,000 jobs in tourism are in jeopardy if this mine, purported to be the biggest coal mine in the world, goes ahead. Indeed profiting from or funding the extraction and burning of fossil fuels is regarded as highly irresponsible in the current push around the world to halt the worst effects of climate change,' continued Nanna Lee.
'We urge the CBA to take unequivocal action to can coal and fund renewables. Knitting Nannas will be vocal in our efforts to save the land air and water for the kiddies. 'We will maintain our public presence outside CBA outlets around the shire to draw the public's attention to CBA failure to stop facilitating the Adani coal mine and the destruction of the Great Barrier Reef and the Great Artesian Basin.'