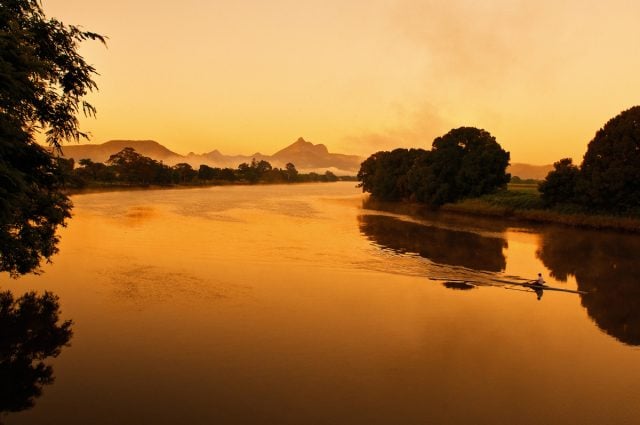 Opposite ends of the Tweed River are at opposite ends of the river health spectrum, according to two recent water quality studies.
Tweed Shire Council's waterways program leader, Tom Alletson, said that 'down towards the river mouth, the lower estuary is a healthy and well-functioning ecosystem and gets an "A" for water quality compliance,'.
But he adds that 'in contrast, the Rous River and creeks feeding the broadwaters have poorer water quality'.
Council commissioned the two assessments as background studies for a new Tweed River Estuary Management Program.
Both examined compliance with aquatic ecosystem protection targets for the Tweed River and Terranora- Cobaki Broadwaters between 2012 and 2016.
'Water samples were collected monthly at approximately 30 sites, from the river mouth to Murwillumbah, up the Rous River to Kynnumboon, and from Boyd's Bay up into the broadwaters,' Mr Alletson said.
'Water in the lower estuary is highly influenced by the ocean during daily tides, whereas the upper reaches of the estuary are more influenced by the quality of runoff from developed land.
'Unfortunately degradation of small streams in our upper catchment has a detrimental impact on water quality downstream.'
Mr Alletson said additional evaluations of the Tweed Estuary ecosystem would include assessments of seagrass and river side vegetation.
'This will complement last year's survey of community values and uses of the river.
'Together, they will ensure a broad range of management actions can be devised and implemented through the new river management plan.'
The Water Quality Assessment includes strategies to improve water quality in the Tweed River estuary over time, and increase public awareness of the issues.
Actions to be considered for inclusion in the management plan include:
Working with floodplain land owners to improve the quality of water in agricultural drains
Reducing the discharge of nutrients from the Murwillumbah Wastewater Treatment Plant into the Rous River
Community education about high-risk times for swimming because of water quality
Restricting stock access to river banks throughout the whole Tweed River catchment
Revegetation of river banks, particularly in the Rous River
To read the full reports or for further information, visit yoursaytweed.com.au/tweed-river-estuary