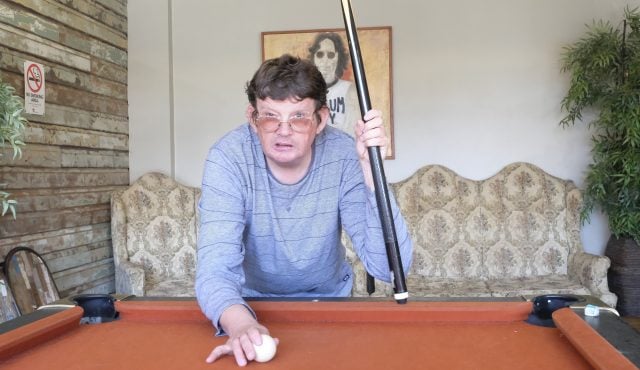 Brian Mollet
Life throws us pleasures and pitfalls, but what tips the balance are the unexpected gems that turn up, such as Saffron Shand.
We're all told that we are unique, but in Saff's case that's why they invented the word.
Charming and engaging, disarmingly straight-talking, funny and often profound, a conversation with Saffron can take you to places you never thought you'd go. (But remember not to swear!)
Saffron was born 40 years ago and by the time he was three months old it was clear he had developmental issues and would face an uphill battle.
He was operated on for a hernia at five months and had slow intellectual and muscular growth.
Lifetime friend Donny McCormack first met Saffron when he was two years old.
'Saff was moving around awkwardly with the aid of calipers and two walking sticks and speaking mostly his own private language. My heart went out to the little fellow and we all wondered what sort of quality of life he could have'.
A loving family and community, expert help from the Biala school in Ballina and Saff's own fighting spirit saw him make rapid progress. Before long he proved to be as delightful, inquisitive and naughty as any kid his age.
Making friends
Socially he made and kept friends with an ease that would be the envy of many other parents.
Father Nick was often heard to confess that although he loved all his kids (older siblings Sebastian and Aslan), he didn't ever think he could love someone as much as his battling youngest boy.
Saffron returns love with the same ease that he receives it, and anyone who knows him is struck by what a caring and protective man he is. A lover of the limelight, he speaks very well in public and never fails to impress with his insight and humour.
Saff loves bowling and cricket and has the ability to astound with his prowess at pool, which he plays each Friday with his best mates on his table at Mother Jane's home, known as 'Club Saffron'.
He is also semi-independent and with some help and dedication from carers spends half his time in his own flat.
For his 40th birthday he is holding a celebration of all things 'Saffronesque' at Club Saff, starting from 3pm on Saturday August 26, which his friends and admirers are invited to attend, laden of course with as many gifts as they can safely carry without swearing.
Loyal, loveable and one of a kind, Saffron reminds us all that no matter what cards we are dealt in life we can all make the best of what we have.