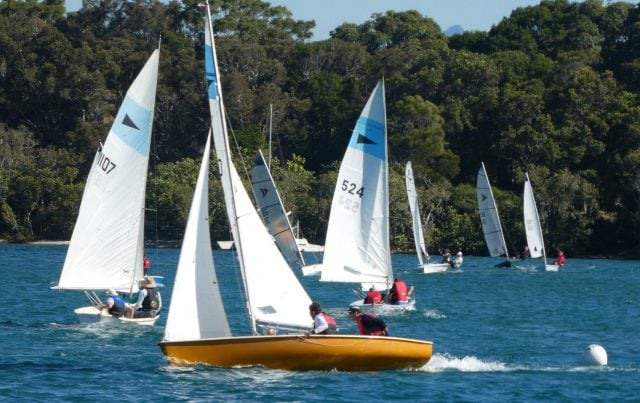 Bill Fenelon and Alison Blatcher
The TVSC is having a good run marked by ideal sailing conditions two Sundays ago as a fresh northerly gusting to 18 knots, and blue skies, made for a refreshing afternoon.
With 18 boats on the water space was tight at the start line and a closely fought first leg up to the windward mark saw John Hayward (Laser) out in front of the monohulls.
Line honours in the monohulls went to Glenn Slight and Kynan Luescher (NS14 Radical Phase) with Gary McCrohan second and John Haywood third, both on Lasers. The Lasers also included Kate Yeomans, just returned from her first Masters titles in Brisbane, and visitor Chris Ruston.
First-time dinghy sailor Paul Foster looks like he's found a winning team already with Mike Mansted on club boat Tasar Hippocampus.
Mike had his best race to date, for the first time beating all the corsair fleet to the finish, 5th across the line and taking first place in the handicap results. A well-deserved win for them.
Tim Brown sailed his Impulse round the nearly two-hour course to take first on time-corrected results. Tim regularly attends the Impulse State Titles.
Meanwhile in the three-handed Corsairs, five boats competed. A big welcome to new member Josh Ferguson racing for the first time on SV Peggy, named after his grandmother, with crew Grant Banning and Deborah Flannery. The Corsair fleet on the Tweed just keeps growing.
Leading the Corsairs from start to finish was 199 Minnow, with an all-Fingal crew, second-placed Corsair Melita III with novice skipper Karen Vidler and crew Alison Blatcher and Marg Walgers (also all Fingalites).
Karen stayed close to Minnow and challenged for the lead at one stage. Sheet tangles set them back.
The third Corsair had another first-timer on board. Joc Steele (another Fingal resident) showed everyone it's never too late to learn to sail.
The smile on her face showed she had a ball with Mark Reynolds and Craig Foley on Corsair Keenas.
This was a day for those who like a bit of adrenaline.
One of the club's best races this winter and, with only one race to go in the series, the competition will be hot on this Sunday. The racing starts at 1pm.