Have you been wondering how to take action on climate change and reduce your carbon footprint? Repower Byron Shire, launched on Sunday 17 September, is helping the Byron Shire community do just that.
ENOVA, Zero Emissions Byron and COREM have come together with Byron Shire Council to encourage people in the shire to achieve 100 per cent renewable energy use.
Two streets have been selected, one in Mullumbimby and one in Byron Bay that will be run pilot program beginning in late September that hopes to see the entire street reduce its carbon footprint by transitioning to renewables.
'These locals have already embraced the concept and street champions have been identified. Once we have had a chance to see how the program can run practically on a small scale, it will be launched into the wider community,' says Byron Shire councilor Jeanette Martin.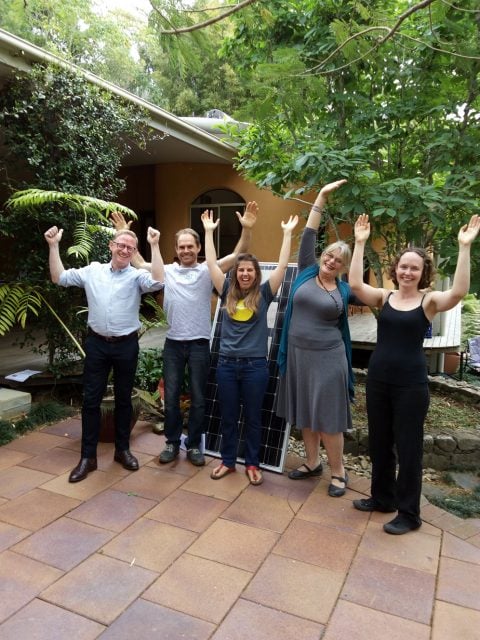 The campaign will focus on three steps: using ethical suppliers who don't use fossil fuels, cutting your energy bills and reducing your carbon footprint and finally learning how to produce energy through the installation of solar PV.
Zero Emissions Byron says this initiative is a significant component of the organisations push towards reaching its mission of 'Net Zero Emissions within the Byron Shire region by 2025'.
Currently ENOVA is working with a number of groups to look at ways to reduce costs for these change including interest free loans and bulk buying solar panels to help owners and landlords to get on board with the project.
'This is a perfect way for individual households to make a choice to go for renewable energy and just get on with it,' says Dave Rawlins from COREM.
For locals who can't have solar panels and generate their own energy, Enova is launching new energy plans that will enable customers to purchase only locally-generated renewable energy.
'Basically, what this means is that people with solar who feed excess back to Enova and get paid a generous 16c FIT for doing so, will have the satisfaction of knowing that their solar is then being made available, via Enova, to their neighbours who don't have their own,' says Sandi.
'We are currently selling 40% of the electricity we buy from local renewable sources and would love to raise this to 100% one day.'