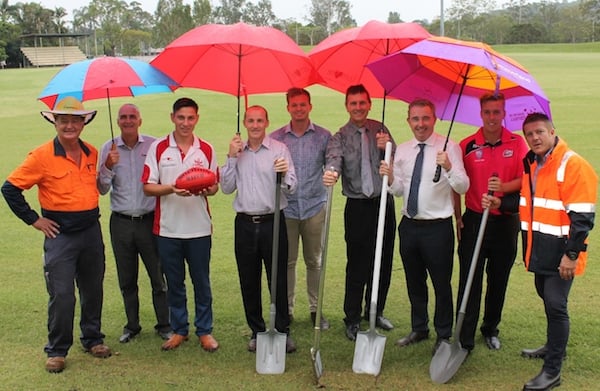 The rebuilding of Lismore continues with the first sod turned this morning on a $3 million upgrade of Oakes Oval, which is set to become the premier sporting facility in the region.
Page MP Kevin Hogan said the upgrade would include an extension to the grandstand roof, and an expanded playing area  which would make it suitable for AFL games, new change rooms and visitor amenities and a new electronic scoreboard.
'The oval will be the same width of the Sydney Cricket Ground and only about one metre shorter. And like the SCG, the new larger Oakes Oval will be the perfect place to watch cricket in the summer and Aussie Rules in the winter,' Mr Hogan said.
The Federal Government contributed $1.4 million to the Oakes Oval project, with the AFL, Lismore City Council and the Lismore Swans AFL matching the funds in cash or in-kind.
President of the Lismore Swans Aussie Rules Football Club Philip Tsourlinis said the upgrade is crucial for further growing Aussie Rules across the North Coast.
'The redevelopment will be so critical in empowering our code's athletes on and off the field,' he said.
'It will provide our men's and women's teams, plus our juniors a facility we can call home where we can host games and create a truly wonderful game day experience for fans, members and most importantly our players.
'We truly believe Lismore has a huge potential for Australian Rules Football.
'With Women's AFL (AFLW) Australia's fastest growing sport, we have a facility and a functioning football club who can help our women reach the AFLW dream. We are grateful for this opportunity.'
Lismore mayor Isaac Smith said the Oval upgrade would boost prosperity in Lismore at a time when it was most needed.
'Every building or construction project represents dollars flowing back into our city,' he said.
'The Oakes Oval redevelopment is not only great news for Lismore's reputation as a regional sporting centre and a win for local sport fans, but it is also yet another important stepping stone in Lismore rebuilding for the future.'
Federal funding for the project was fast-tracked to help kick-start Lismore's recovery and comes on top of more than $45 million of Government assistance that is pouring into the Lismore Local Government Area.