Eve Jeffery
Inspired by a Bundjalung creation story called Three Brothers, NORPA's latest offering is a mesmerising dance theatre piece called Djurra.
Meaning 'lore' in Bundjalung language, Djurra has been developed in consultation with the local Bundjalung community and knowledge keepers, in particular Roy Gordon who has informed and guided as cultural consultant throughout the work's entire development.
Associate Director at NORPA, Kirk Page has been working on the project for almost a year and says that Djurra is a contemporary work inspired by an ancient story.
Page says that with a cast of just four on-stage performers, Djurra also tells a story with plenty of atmosphere. 'There are other elements in the production,' says Kirk. 'The beautiful projections and the lights and the sound – they are all a very big part of the work.'
Sarah at home on country
Born and bred in Coraki and Lismore, Bundjalung woman Sarah Bolt is a mutli-talented artist who not only dances, she also paints and will have work in Artstate. With Djurra, she has added acting to her repertoire.
'For these guys to see that potential in me – being a Bundjalung woman, playing the role of Gammi, our grandmother – I feel a bit honoured'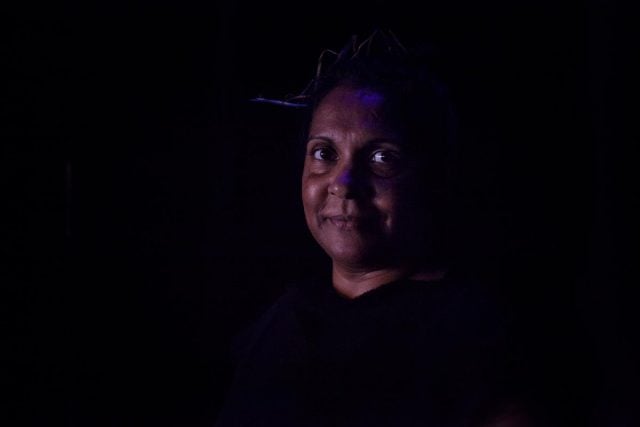 A teacher of contemporary Aboriginal dance and Hip-Hop, since moving back home to country, Sarah  has also been teaching traditional dance.
'My dance group are doing the opening here on Wednesday night and they will also be opening Artstate on Thursday.'
Sarah has really enjoyed the history of the project and knowing the story lines – the Dreamtime story and the history behind it. 'I know this story from my childhood but finding out more about it now is helping to connect me more to country.'
Sarah says she spends a lot of time at City Hall and she feels at home with everyone at NORPA. 'I feel like I live here half the time it's a second home and they feel like family. I feel that connection. They support us with everything we do. It's been phenomenal.'
Djurra has been created by an impressive team of Indigenous and non-Indigenous collaborators under the direction of Page. As well as Roy Gordon as cultural consultant, the creative team includes performers Joel Bray, James Slee, Damion Hunter and Bundjalung dancer, artist and health worker Sarah Bolt.
NORPA Associate Artist Jade Dewi has created textured choreography and the sense of feeling the production as well as seeing and hearing it continue with the talents of Edward Horne and Charlotte Wood as set and costume designers.
Coupled with videography by Rohan Langford, compositions by Ben Walsh with contributing artists Mitchell King and Blake Rhodes, the multi-layered atmosphere is one you become immersed in.
Djurra is Kirk Page's first full length work and will premiere at Artstate NSW, the inaugural regional arts conference to be held in Lismore.
'Bringing culture on to a stage is no mean feat, this is two worlds colliding, bumping together, navigating through territory that is often fraught,' he says.
'I can't think of any other theatre company that is connecting on this level in terms of opening up the making process in this way.'
Kirk says it was important to him to have a successful collaboration with all the artists concerned and for people from the community come to enjoy the work. 'I want them to walk out feeling happy and walk out feeling proud.'
Photos Tree Faerie
Djurra
Thursday 30 November – Saturday 2 December, 7:30pm
NORPA at Lismore City Hall
$25- $51
Bookings: www.norpa.org.au or 1300 066 772