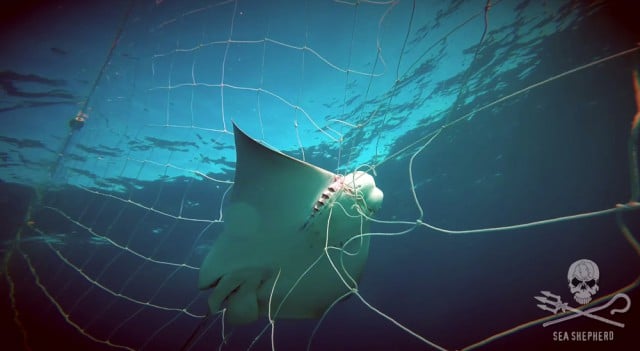 The NSW Greens have condemned the installation of shark nets along the Ballina coastline as activists prepare for a paddle-out and protest at Lennox Head tomorrow.
Ballina MP Tamara Smith said the second shark net trial marked the beginning of six months where dozens or even hundreds of marine creatures were likely to be caught or killed.
Ms Smith said 244 marine creatures, including rays and endangered turtles, were entangled or died during the first six month trial, while Smart drumlins caught more target sharks, with almost no by catch.
'The shark net trial on the North Coast was a demonstrated failure and should not be repeated,' she said.
'There is no scientific evidence and decreasing community support for putting shark nets back in the water this Summer.
'We all want to ensure people are as safe as possible when enjoying the beach and ocean while minimising the toll on marine life. Shark nets don't help achieve that balance.'
Greens MP and Marine Spokesperson Justin Field said the NSW Government was letting fear, News Limited and shock jocks drive shark management in the state.
'The NSW government's shark net trial and program is more about spin than an effective shark deterrent measure – which they are not – and gives the community a false sense of security,' he said.
'The Greens have supported targeted trials of SMART drumlines for scientific purposes and the trials on the North Coast have been promising with important data on shark behaviours being collected and very low by-catch and mortality rates of caught sharks.
'North Coast locals are already shark aware and overwhelmingly reject the idea of shark nets and unnecessarily harming marine animals. Sadly the NSW Government is continuing to pursue a shark management strategy based on fear,' he said.
Meanwhile, Byron shire ocean conservationist Dean Jefferys is organising a paddle-out to the shark net at Lennox Head tomorrow at midday, and he plans to swim under the net to show how ineffective it is.
'The nets are a straight line about 150 meters long and go down about 6 meters,' Mr Jefferys said.
'I plan to swim under the nets on Saturday and any confident diver is welcome to join me or swim around the net or hold a banner up while we do or just come to the beach and show your support to have the nets removed.'
He is also urging people to contact the Department of Primary Industries to lodge their concerns about the nets.
'If you want to sign some petitions to Lobby politicians or get more info on shark nets and the alternatives you can check my website www.migaloo2.com,' he said.