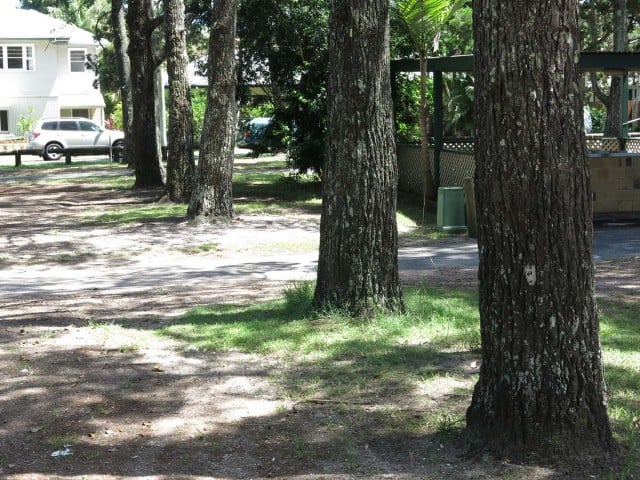 The Trust managing the Terrace Reserve Holiday Park in Brunswick Heads have again been accused of attempting to kill off protected trees to increase their commercial camping activities.
On November 8, resident Patricia Warren told The Echo that mulch had been dumped around the vulnerable trees, which is at odds with the advice of Byron Shire Council's ecology report and that of a local native nursery.
In reply, the CEO of the government-owned NSW Crown Holiday Parks Trust (NSWCHPT), Steve Edmonds, told The Echo that since gaining advice from their arborist on the mulching, they have since 'ceased works.'
Mark Dunphy of Firewheel Rainforest Nursery told The Echo, 'These cypress trees grow in sand and are not used to being mulched. It's definitely not a good thing and could well kill them.'
Additionally, a spokesperson from the NSW Office of Environment and Heritage (OEH) confirmed with The Echo OEH 'received the notification on the matter from Byron Shire Council and is investigating.'
The Echo asked NSWCHPT if there is a report that supports mulching and whether seedlings have been planted as compensation for the removal of two Coastal Cypress Pines.
NSWCHPT CEO Steve Edmonds replied, 'The Terrace Reserve's vegetation management plan recommends that to maximise the lifespan of existing trees, mulch should be applied to the critical root zone of the Coastal Cypress Pines as this would "decrease competition from grasses and maintain soil moisture and fertility".
'This vegetation management plan was prepared by environmental consultants in 2011 and was referred to in the park's plan of management, which was adopted in 2014.
'This vegetation management plan is the document which has been adopted to provide guidance in managing the Coastal Cypress Pines at Terrace Reserve amongst other vegetation within the park.
'The report by provided by Robert Michael Kooyman in August 2017 has been taken under consideration by the Trust and we continue to work with our consulting arborists to determine if any of the report's findings warrant modification to the adopted vegetation management plan.
'The Trust notes that Kooyman's report states that the soil nutrient levels should not be modified (eg no addition of fertiliser to promote grass growth).
'This recommendation does not refer to the use of mulch; however, the Trust has consulted its arborist to seek confirmation that mulching around the critical root zones was appropriate.
'The Trust have ceased works around the Cypress Pines until further advice is received.  
'Please note, no compost was contained in the mulch used by the Trust.'
Mute Nats MLC
The Echo also asked local National Party MLC Ben Franklin if he is prepared to ask for ministerial intervention to restore public confidence in this matter and ensure that NSWCHPT are complying with best practice management of the trees.
No comment was received by deadline.