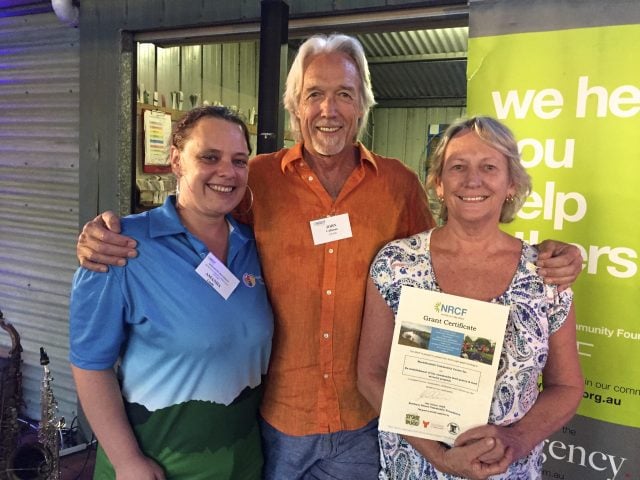 A vital not-for profit supermarket that was destroyed during the floods in March will soon re-open thanks to a $24,000 grant from the Northern Rivers Community Foundation (NRCF).
The Murwillumbah Community Pantry provided groceries and fresh produce to hundreds of locals at bargain basement prices until the operation was completely destroyed in the deluge that followed Cyclone Debbie.
'It was completely wiped out – we lost everything in that building,' said Amanda Lindh, the community services co-ordinator of Nullum House which ran the pantry.
'We had over 650 members before it was destroyed. It's been the most asked-for service that we run.'
The pantry's closure added salt to the wounds of hundreds of locals who had already suffered greatly as a result of the floods.
But thanks to the grant, the pantry will re-open at new premises in the Red Cross Hall within the next few months and include additional services such as free cooking and food growing classes.
It was one of 18 grants handed out by the NRCF on Thursday night, including contributions to The Shift Angels project in Byron Bay which provides employment for women who are homeless or at risk of being so in a commercial laundry service for 5-star accommodation.
Another grant was awarded to Future Dreamers TV – a youth driven initiative that helps girls and young women from across the Northern Rivers to create short films for future broadcast online.
The Chair of NRCF John Callanan said the organisation had received an unprecedented number of applications this year – 75 in all.
'That's a 60 per cent increase which is indicative of the need for more philanthropy in the Northern Rivers,' Mr Callanan said.
'The Board was concerned by the enormous need within many sectors of the
community.
'We would be delighted if local individuals and businesses would
partner with us further – to help relieve inequality and disadvantage in the
Northern Rivers region.'