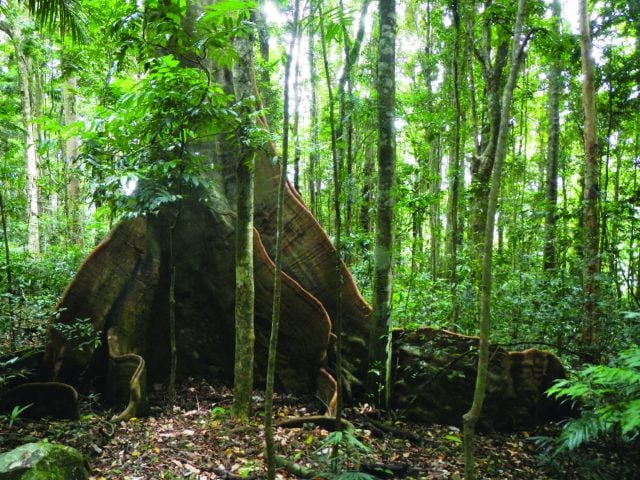 A three-year project to restore 25 hectares of bushland on private land at Numinbah is entering its final stages, with plant diversity trebling in some areas.
'There has been prolific regeneration of native species through the Numinbah Nature Links program, which has brought landholders and Council together to conserve threatened flora and fauna in Tweed Shire,' Council's project officer – biodiversity, Michael Corke, said.
He said the project, funded by the NSW Environmental Trust and Council, is on track to meet its targets.
'This is a great result because the project area, within the Pat Smiths Creek and Couchy Creek catchments, is rugged and heavily weed-infested,' Mr Corke said.
The area is part of a regional fauna corridor linking the World Heritage-listed Springbrook National Park and Numinbah Nature Reserve with Wollumbin National Park. These national parks are internationally recognised for their biodiversity, including rare and threatened species.
Bush regenerators and landholders are controlling dense infestations of Lantana, Giant Devils Fig, Kudzu and other weeds, including a severe infestation of the invasive ornamental tree Pink Cedar on one property.
'Until now, weeds have suppressed rainforest regeneration and threatened the viability of threatened plant species. However, systematic initial and follow-up weed control has led to dramatic results,' he said.
'After two years of weed control, most work sites are now covered in pioneer native species. Growth rates are phenomenal, with many saplings well over head high. Threatened species are growing with renewed vigour because they no longer have to compete with weeds.
'The final year of the project will involve follow-up weed control to capitalise on these promising results. If current regeneration trends continue, full canopy closure is likely at most sites within three or four years and sites should only require basic maintenance.'
Mr Corke said the project had also improved landholder's plant identification skills and weed-control techniques.
'By applying their skills and knowledge, landholders will play a pivotal role in long-term site management, with ongoing Council support,' he said.
'As part of the project's high emphasis on public education, a community education day was held during the second year to increase awareness of the biodiversity values of our local World Heritage-listed national parks.
'It attracted 46 people and will be repeated in May 2018, with plans for a work site tour or a guided rainforest walk.'
For more information about the project, contact Michael Corke on (02) 6670 2595 or [email protected]