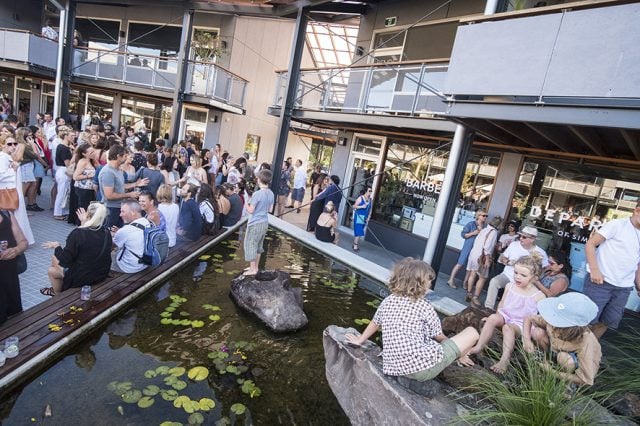 New Barrio in the neighbourhood 
By Vivienne Pearson
Barrio means 'neighbourhood' in Spanish. It is now the name of Byron Bay's newest cafe/restaurant; appropriate given that it is at the centre of Byron's newest neighbourhood: Habitat.
'Our intention was to build a compact village where people could live, work and play,' says Brandon Saul, whose official title is 'Developer' even though he doesn't see himself as such, this being the only property he has ever worked on. The street names, like Penny Lane, and the others like Porter Street named after poets, were Brandon's idea.
The land was zoned as a village nearly thirty years ago. 'That was before Facebook and Instagram… Byron was a different place then,' says Brandon, who is also the promoter of the Falls Festival.
The reality, which officially opened on Friday night, is surprisingly similar to the initial concept that was run past Jan Barham's council 19 years ago, including serious environmental features such as solar power (a microgrid and Tesla batteries), integrated greywater reticulation and electric car charging points. It also will boast fibre to the premises broadband on the NBN.
In an amazing stroke of good timing, Habitat is close to the Elements end of the new train that started running on the weekend.
The first residents in the live/work-style buildings (private living space upstairs and adaptable work spaces downstairs) and retailers (pop-up and ongoing) in the commercial spaces moved in a month or so ago and the current stage is completely sold.
Other elements are still in construction, some to be opened in February, others still in planning.
Barrio, the eatery/bar, really did open on Friday, though it will be a soft-ish opening with gradual additions towards the eventual full picture.
From Monday 18 December and for the rest of this week it will be open as a cafe from 7am till 2pm – serving St Ali coffee (the only venue for this South Melbourne roastery coffee in the region), pastries and lunch. From 28 December, dinner will join. The bar, including a promised killer cocktail menu, is aiming to start in February.
Barrio is the coming together of a few well-respected locals. Tristan and Kassia Grier, of Harvest and Sparrow, are being joined by Fransisco Smoje of Fransisco's Table, who has chosen to roam around regional halls no longer. Expect a focus on wood- and charcoal-grilled flavours inspired, but not restricted by, his Argentinean roots.
The fourth co-owner is Dan Wylie, bringing a pedigree in bars and cocktails from New York, Sydney and, locally, at Harvest.
The design of Barrio – spearheaded by Dominic Finlay Jones Architects (also of The Farm and the Ballina Sea Rescue centre) – fits perfectly with the rest of Habitat. Metal and wood are used to create open, friendly spaces with good air- and people-flow, all softened by lots of greenery.
'The sun will rise through the breakfast bar window, and you can watch it set behind Mt Warning,' says Tristan Grier.
Shared tables and outside eating areas fit with the overall concept of creating a neighbourhood of people. For those who live and/or work at Habitat, Barrio will likely become their extra lounge room.
Everyone else is totally welcome too. You can eat and/or shop (retailers include Habitat Women and Habitat Home – where every rack and corner is a different brand – and the Department of Simple Things, a new 'mens's department store' concept).
This is also a summer pop-up store for six weeks only called Modern Habitat, by Case22, featuring rare mid century furniture items.
Or, you can use a visit to Barrio simply as a way to have a stickybeak at this brand-new part of the Shire.
Barrio Byron Bay: at Habitat, 1 Porter Street, Byron Bay (off Bayshore Drive, past the Arts & Industry Estate). @BarrioByronBay
For a great bird's eye (or should we call that drone's lens) view, to put Habitat's location in perspective, see the 'about – location' tab on the habitatbyronbay.com website.
PHOTOS by Jeff Dawson
The local vibe around Habitat
By Simon Haslam
Like any organic barrio, or 'local district', the Arts and Industry area has grown as a creative seething mess, always rife with illegal development, especially people living above their premises. There's a chaos of yoga studios with signs telling yoga people to park in the street, cafes, steelworks and breweries, car repairers and upmarket fashion labels.
It's hard to drive a car along Banksia Drive, let alone an 'industrial' vehicle; it can't be long before it becomes a bike-only area by default. With all the chaos and closeness, it's also a great place for connections. It's certainly for locals, who want visitors to come and buy their stuff and use their services, but who also want a place to eat and play, to have a life/work balance where they live.
The new Barrio restaurant in Bayshore Drive in the Habitat complex provides a relaxed venue for that, but this is not the 'poor' quarter. Tristan Grier and his partner Kassia had a connection with Francisco and Emma, and Dan Wyllie; they're experienced hospitality people who know how to make you feel at home, like there's a place in Byron that's actually for Byron people.
'I think it's hard for locals to feel at home in the centre of Byron,' says Tristan. 'There are so many tourists. We want Barrio to be a place for the people of the north Byron community, including Sunrise, where you can come to meet, or sit with your computer. There's single but also communal tables, so you can be relaxed and make connections for friendship and business. We want locals to feel welcome to come back a couple of times a day, if they want, to their local without having to spend a lot of money each time.'
Beau Ashton is right at home in the barber's chair at the Dept of Simple Things store at Habitat. 'It's a department store for men that just stocks the best products,' says Beau. A stunning example is the Yeti cooler; the giant-size version fits 220 cans of beer and is bear resistant. Another is the 'wifire' barbecue, an internet-connected beauty that can be pre-programmed so you can 'set and forget' your slow cook.