Reef Theatre
What better way to communicate the plight of our coral reef than with dance, theatre, and some bloody spectacular costumes! ReefUP! dance and theatre extravaganza will be acclaimed choreographer Liz Lea's third joint venture in collaborative scientific and arts research after the success of FlyingFacts (a theatrical exploration of the history and science of flight) and Star Struck (a dance-based response to astronomy and the science of the Big Bang). Key scientists from Project Manta, featured on David Attenborough's documentary about the Great Barrier Reef, provided research data for ReefUP! Using dance, theatre, some amazing costumes and the latest scientific research Reef UP! shares the story of what is happening to our coral reefs and what we can do to help. Audiences learn how all life on the reef is interrelated. If a single organism or species is affected or declines in number it can have a huge ripple effect both down and up the Great Barrier Reef's food chain.
Meet a sea-full of loveable characters (and villains): Manta and Ray, Slinky the Shark, Hollywood the Minkie Whale and a devious Crown of Thorns starfish called Priscilla. To a soundtrack of popular songs, Reef UP! highlights the beauty and precarious nature of the reef ecosystems across the globe, and helps the audience explore the simple things that they can do to help preserve these breathtaking environments.
Developed with support from Queensland Music Festival, Canberra Theatre Centre and QL2 Dance, Canberra, and an impressive array of leading scientific collaborators. Reef UP! All-ages live show will be at the Brunswick Picture House on 3 and 4 Jan 2018, 11am and 2pm (four shows).
Adult $20 / $18
Child $15
Family of 4 (ages 3–15) $70
Tickets at brunswickpicturehouse.com
---
Theatre for Kids!
Worried about filling the long days ahead with interesting activities? Well the Byron Theatre has some great solutions with an all-ages program that is certain to have something for everyone.
Thomas the Break Engine is full of acrobatics and clowning around, telling the story of a train conductor Thomas, who strives to power his train with clean energy. A circus workshop also included. That's Tuesday 2 till Saturday 6 January at 11.30am. For 2-plus.
Kidzklub sessions are back all through January with creative art and craft activities for kids ages 4.5–12 years. Kids can play freely and creatively with our fabulous equipment and materials or join in with the structured art session facilitated by our qualified staff.
Weekdays in January, 1.30–4pm
$24/child
Varietyville takes variety to a whole new level. Bite-sized morsels of masterful magic, chaotic clowning, musical mayhem and much, much more! Fun for the whole family. Playing Saturday 6 January, 7.30pm
Monday 15 Jan sees Gabriel Otu perform a hands-on cultural workshop, taking kids on a journey of African fun, where everybody has the opportunity to play music, sing, and ask questions.
There is also the Bright Lights Holiday Workshop offering adults and children of all ages a show of singing, musical theatre, dance and drama. The final show is performed at Byron Theatre. Don't miss this amazing holiday fun!
Show Tickets: Single $5 | Family $20
And 24 January, Johnny the Jester, one of Australia's leading entertainers and children's magicians, brings his Wild & Crazy Children's Magic Show to the Community Centre. All tickets $15.
Check the Centre's website for show details and tickets – byroncentre.com.au
---
Drumming Up Monkey Business
Australia's favourite little-kids' show is returning to Byron Bay! They will be cruising back down the east coast following their performances at Woodford Folk Festival and will be stopping into Byron on Thursday 4 January.
The Amazing Drumming Monkeys have been wowing audiences around Australia and overseas for the past 14 years. This year's highlights include the Bahrain Formula 1 Grand Prix and the beautiful Huangpu Theatre in Shanghai China. The Monkeys combine a unique blend of puppetry, live music, comedy, and heartwarming themes to deliver a fun-filled interactive show for the whole family.
This is an adorable little variety show aimed at 1–8-year-olds, and is also great entertainment for all ages. The two monkey puppets (Bongo and Congo) play African drums, lead audiences in songs and dances, and have all sorts of fun along the way. The Monkey show also features beautiful messages, such as caring for the planet, and getting along with one another.
Byron Scout Hall at 10.30am. 40 mins. $10 pp or $35 for a family of four.
---
NORPA is offering three exciting theatre workshops for young people aged 8–18 with leading Australian theatre practitioners and educators Barry Liang, Kate Walder (Australian Theatre for Young People) and Ajita Cannings (NORPA). Each workshop is spread across four days (22–25 January) and explores the exciting ways in which NORPA makes theatre – from the physical and dynamic to the bold and downright silly.
The workshops are:
Stepping into Images with Barry Liang
For 15–18-year-olds
Bridge the space between imagination and physicality by exploring the intersection of image, movement, music and text. Explore collaborative strategies for theatre-making and creating images that emerge from young people's concerns and interests. Conducted by Barry Liang, an internationally experienced performer and educator with vast experience in community development projects, theatre, dance, visual arts, cabaret and site-specific performance. His body of work has addressed actor/performer training, devising/composition techniques, physical/movement practice and strategies, imaginal practice, and writing for and from performance.
Not a Word with Kate Walder
For 12–15-year-olds
Explore how much you can say without actually saying anything. Discover how physical theatre can help us express a range of emotions and explore clowning and mask work.
Kate Walder is a regular tutor at the Australian Theatre for Young People (ATYP), Monkey Baa Theatre Company, The Arts Unit, DramaWorks and Opera Express. Her physical theatre piece created for Newcastle DramaWorks was selected for State Drama Festival 2017.
Empowered play-making with Ajita Cannings
For 8–12-year-olds
This workshop holds children's natural joy and inherent inquisitiveness as performers and creators at its heart. An exciting and safe environment in which to explore performance.
Ajita Cannings ran away with the circus all the way to Switzerland, where she performed as an acrobat and trapeze artist with Circolino Pipistrello. Every week the circus landed on a new spielplatz – playground – with a Big Top, twenty-five caravans, two cats and sixteen circus performers ready to make a new show in just four days with 100 children. On returning to Oz she began tutoring with Riverina Young People's Theatre and went on to work with Australian Theatre for Young People. She has a long history of working with young people through NORPA, and was assistant director to Kirk Page on NORPA's recent work Djurra.
Each workshop runs for four days over 22–25 January. 10am–4pm at Lismore City Hall
$260 per student / $240 earlybird price if paid by 7 January 2018. A limited amount of financial-hardship scholarships are available. For more information and to book visit
www.norpa.org.au or contact Ajita Cannings at [email protected]
Each workshop runs for four days over 22–25 January.
Time: 10am–4pm at Lismore City Hall
$260 per student / $240 earlybird price if paid by 7 January 2018.
A limited amount of financial-hardship scholarships are available.
Bookings: For more information and to book visit www.norpa.org.au or contact Ajita Cannings at [email protected].
---
Country Club Comedy welcomes Steve Allison!
After two months' hiatus Country Club comedy is back! Featuring Steve Allison as the January headline with S Sorrensen as support and Mandy Nolan as MC!
Steve Allison has that rare gift of walking into a room and making everyone his mate.
Steve Allison was born into show business. His parents (The Allisons) were Australia's top sight act for more than thirty years. His dad always said as long as you live under this roof you will do things my way. So Steve had to come home from school every day drunk, and tell mum a joke. Steve Allison knows how to make people laugh.
The confidence and experience earned from performing more than a thousand live shows is clear – he is funny! With a natural sense of humour and quick wit, Steve's show is a well-crafted mix of snappy one-liners, hilarious stories, funny home truths and current topics.
It's Aussie humour at its best.
Steve is joined by support act, the hilarious dry poster boy for pissed off ageing, S Sorrensen, and the outrageous wit of Mandy Nolan.
Tuesday 2 January at the Ocean Shores Country Club. Free. 7pm.
---
Pickering a Winner
Last month Charlie Pickering had to cancel his sold-out show at the Byron Brewery owing to illness but he promised to be back! And he is!
A whole new show is scheduled for Thursday 18 January! Pickering spends his time between Australia and the US, and is currently in Oz making the annual ABC wrap-up of the year that was The Yearly.
Edgy, polished and inventive, Charlie Pickering is one of the most exciting names in Australian comedy. Charlie is a political junkie, law graduate, and was the voice of his generation as a regular team captain for Generation X on Network Ten's quiz show Talkin' 'bout Your Generation. He was also on your TV screen every weeknight for five years as co-host of The Project, where the day's news is dissected, digested and re-constituted by some of Australia's funniest and smartest.
Charlie has earned many an accolade for his live work over the years, including nominations for the Perrier Best Newcomer Award in Edinburgh, the Barry Award for Most Outstanding Show at the Melbourne International Comedy Festival, as well as being named Best International Guest by the NZ Comedy Guild. He's even been nominated for a Logie and in 2011 picked up Media Personality of the Year in the GQ Men of the Year Awards.
Charlie was invited to perform at the prestigious Just for Laughs Festival in Montreal in 2016, guest hosted several episodes of ABC News 24's Planet America – a political comedy show looking at the US presidential race. He also performed a brand-new solo show How to Tame a Wild Squirrel at the 2016 Melbourne International Comedy Festival and Just For Laughs at the Sydney Opera House.
In 2015 Charlie joined the team at ABC TV to premiere a news comedy show, a tonight show, a chat show and a panel show all in one – The Weekly with Charlie Pickering. The critically acclaimed show aired its third season in 2017.
He's been called dangerously funny, which he is.
He is joined by support Damian Power, three-time Barry Award nominee and widely regarded as one of the most exhilarating voices in Australian comedy. He has been called the bar-room philosopher. His material is incisive, deep thinking and has even the drunkest person in the room contemplating their reason for being. He's genius.
With Ellen Briggs as MC this is one cracker of a show.
Byron Brewery. Thursday 18 January. Doors 7pm, Show 8pm. $25. Tix on trybooking.com/SLDY
---
SAE workshops
SAE's Summer Series is a 3-day program for anyone who wants to come and work on inspiring creative projects in the fields of Audio, Design, Film or Games. Across the 3-day workshops, SAE Summer Series attendees will work towards building a creative piece of work to take away for use in a portfolio or showreel. Attendees will receive a certificate of participation to acknowledge the creative work they have undertaken. 
Don't miss out on your chance to experience life as an SAE student, and discover what it means to be a creative professional in state-of-the-art facilities with industry experts by your side!
23–25 January 2018 | 10am–4pm each day
SAE Creative Media Institute, 373 Ewingsdale Rd, Byron Bay
$150 per person with lunch provided each day.
Spaces for this event are extremely limited. 
Owing to the tertiary level of the workshop content, this event is open to anyone aged 15 years and older (Year 10 and over).
MORE INFO + TICKETS: https://www.picatic.com/summer-series-byronbay
---
Atherton heads up Home Grown Comedy
Jonathan Atherton is without a doubt one of the most gifted comedians you are likely to see. His father was the editor-in-chief of the Courier Mail, and later he lived abroad exposing a young and attentive Jonathan to his lifelong inspiration: culture. The guy is like a sponge for language, but he's no mimic; he understands language because he understands people in a very real way. 'Australian culture is such a contradiction. I think of us as a nation of poofta-bashing redneck homosexual chardonnay sippers! Foreign Affairs and Trade should be giving me money to do what I do – the number of times people have come up to me and said (in India) I didn't think Australians could understand Asian culture!' Jonathan can talk. A lot. It's like being under a philosophical avalanche that just keeps coming and coming. Everything is involved. He talks about the universe, politics, sex, men, women, and even the nature of the human heart. For Atherton, the stage is the therapist's couch, and in an hour of dialogue he unravels. It's mystifying to behold.
'When I am onstage, I bare my soul. We all have that side; I think it makes people really comfortable that they have a dark side or an angry line. There's a fine line between rape and seduction; I like that fine line. Sometimes it goes all terribly wrong. We tend to live in a tent of denial about our dark side, and I think that part of the job of the comedian is to shed light.'
Jonathan Atherton is the MC at the Byron Brewery on Thursday for Home Crafted Comedy, the monthly night that showcases the best emerging talent in the region.
8pm. Free.
---
The undisputed Queen of Cabaret!
Lavish and loud, brazen and bold, Trevor Ashley premieres his brand-new show Trash & Trevor at NORPA on Friday 29 December. Featuring highlights from his sell-out cabaret shows I'm Every Woman and Star Struck with recollections from Priscilla and Les Miserables, TrAshley will sing your favourite divas like you've never heard them before. An evening with Trevor Ashley is the perfect way to kick off your Tropical Fruits Festival experience with a diva degustation of Cher, Tina Turner, Liza Minelli and of course Shirley Bassey. As well as a sizzling live band, Trevor will be joined by special guest Markesha McCoy (NYC), one of the stars of Las Vegas's Rock of Ages.
Show at 8pm. Lismore City Hall. Tix online at norpa.org.au.
---
Man with Doll
International comedy star David Strassman's brand-new show iTED E uproariously parodies our technology-laden lives. The sharp-tongued Chuck Wood and loveable Ted E Bare are constantly on their screens. With everyone connected to social media and the internet 24/7, will Strassman get them back under control?
And, in a world-first, Strassman simultaneously operates five characters in a 6-way conversation. Once again, he revolutionises ventriloquism. This will sell out for sure. Grab your tickets now.
The show is at The Byron Community Centre on 16 March. Tickets at byroncentre.com.au
---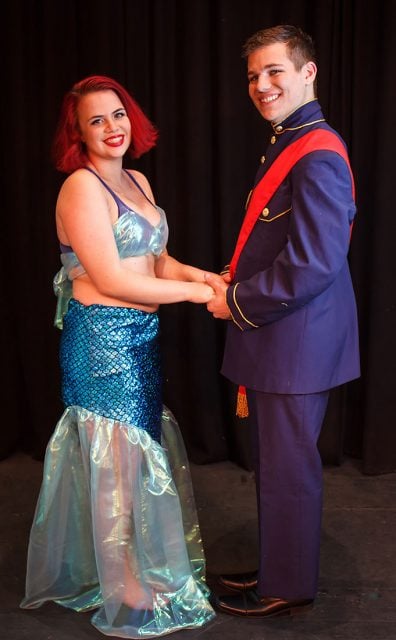 Making a Splash
Tickets are on sale for the Ballina Players Theatre Company's latest production The Little Mermaid. Starring Jade Rushwood as Ariel, the beautiful but rebellious mermaid who is fascinated by the world and lives of people on dry land, and longs to someday join them, especially when she meets her prince, played by Liam Gatt. 
This popular Disney classic is not just for children and will delight audiences of all ages.
The Little Mermaid runs at Ballina Players over 12–21 January.
Details and booking information at www.ballinaplayers.com.au or via Facebook. Tickets can also be purchased from Just Funkin Music in River St, Ballina.